We've been preparing for this launch with great excitement for several months now. Finally, the time has come when we can proudly showcase a truly unique model. It's just arrived – Fujiiryoki JP2000 – the latest and most advanced model in the world, created by the Japanese inventor of massage chairs. Following our previous practice and experience, we started our work with a photo shoot and, of course and above all, testing. And everyone's been really eager to test it :) So let us reveal what makes this model so unique.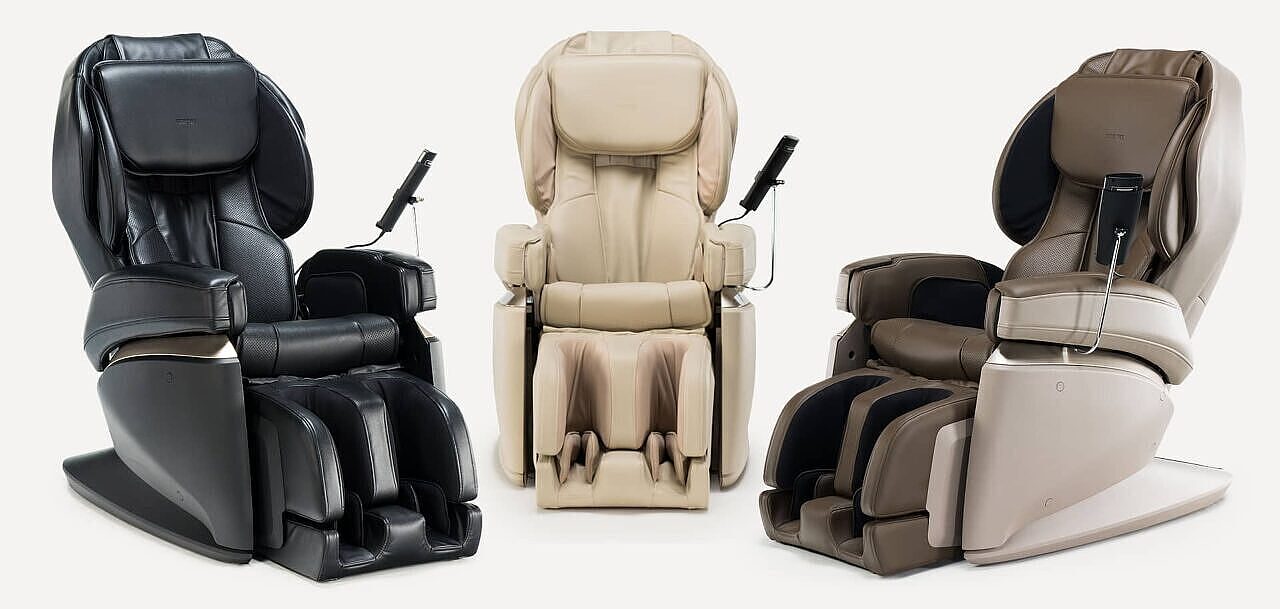 Experience the Fujiiryoki brand – straight from Japan
Until now, the title of the most prestigious massage chair belonged to Fujiiryoki JP1000. It's an incredible model that combines more than 60 massage programs, a high-precision scanning system and a relaxing deep muscle massage. Thanks to Japanese accuracy it perfectly adjusts the massage and effectively unwinds, relaxing and removing tension all over the body. However, the Fujiiryoki brand has worked continuously to improve this model and is now proving that it can get even better. The most technologically advanced model in the world, Fujiiryoki JP2000, has just been introduced into our offer.
JP2000 – real time artificial intelligence
The function which appears in the massage chair for the first time and distinguishes it from others is a specially developed artificial intelligence algorithm – 5D AI. The Artificial Intelligence is responsible for adjusting the intensity in real time based on the current muscle tension being read by the chair… and everyone here agrees – it works wonders! As a result, it was possible to achieve massage perfectly tailored to body, and the multidimensional, smooth and appropriately deep movements of the massaging arms imitate human hand with utmost precision.
However, artificial intelligence is just one, though probably the most important, of many advantages of JP2000. The improved airbag system covering the whole body will ensure pleasant relaxation and relief. The groundbreaking heating system allows for warmth to be applied not only to the waist but also to the abdomen. And the long-awaited novelty in Fujiiryoki massage chairs – a roller foot massage. Unique shape of the rollers massage the feet both precisely and with great sensitivity, removing the accumulated tension. Furthermore, it features advanced and highly enjoyable stretching of the body, deep muscle massage and a huge number of automatic programs and massage techniques. But simply listing its advantages seems to be just words. It's necessary to experience it, because it's hard to imagine how accurate and fitting the massage session in JP2000 is, and performed with extreme sensitivity.
Let's say a few more words about its appearance. It is simply stunning! Manufactured with great attention paid to the smallest details, using the best materials. It is available in three colour versions: black, brown and beige. See for yourself:
Fujiiryoki JP2000 provides a professional massage refined to the smallest detail, perfect for rest, relaxation and improved well-being. If you like what you see, read its detailed description, and if you have any questions, feel free to contact us.