In one of the first episodes of our vlog we began to discuss the functions of the massage chair from Zero Gravity. Today it's time to explain the next one. We take a closer look at L-shape, which is one of the most pleasurable functions that surprises most people during massage. In this latest episode Paweł explains what L-shape is, how it works in massage chairs and what its advantages are.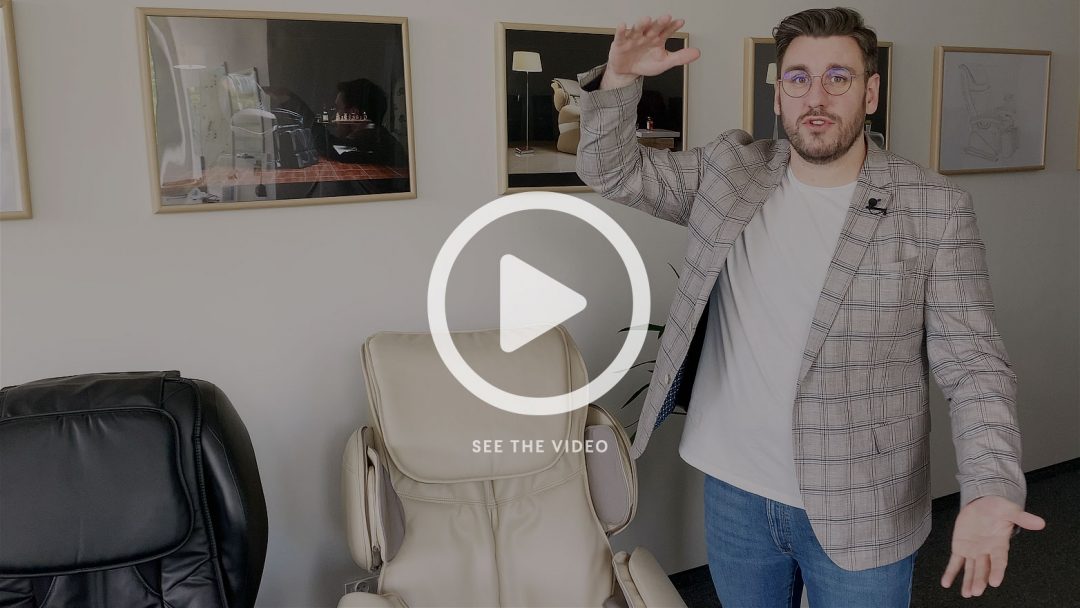 Related articles:
If you are interested in the subject of massage chairs, the VLOG tab contains all the previously posted episodes. And if any questions arise while you watch the material, feel free to contact us.
Transcript:
– Paweł, you often use the term L-shape. Can you elaborate?
– L-shape is a technology used in massage chairs, and it refers to the extent to which the massaging arms move. Using Massaggio Conveniente as an example, which isn't equipped with the L-shape function, the arms work from the neck to the lumbar region in a straight line, i.e. at about 70 cm. However, L-shape chairs have a linear massage guide that doesn't go straight like that, but it's curved in the shape of L, which allows to massage the upper parts of the buttocks. With Eccellente model, for instance, the arms move in a straight line from the neck to the lumbar and curve here up to the buttocks, in a range of approximately 95 cm. There are also chairs that have an even deeper and longer linear guide. And so, in the case of Esclusivo, the massage also takes place from the neck along the line of the spine, but practically down to the thighs. For example, Conveniente works up to 70 cm, Eccellente works up to 95 cm, and the linear guide in the Massaggio Esclusivo chair is up to 135 cm. It's an incredibly important function, it allows to massage the buttocks and muscles that aren't usually massaged, but which are very important because they allow us to maintain a good posture.
– I've also found the term SL-shape on the website.
– Yes, it' a derivative of the L-shape function. The letter S in the name also means the particular curvature of this linear guide in the upper part, i.e. where chest is, it's a bit further away; where the loins are, the massaging arms are a bit closer come to the body. The SL-shape function appears mainly in compact chairs.