Up until recently we used to associate massage chairs with shopping malls, hotels, beauty spas or sanatoriums ;-) Today, this point of view has somewhat changed and massage chairs are becoming more and more common in private homes. Advantages such as the opportunity to relax anytime you want without the need to leave home plus the use of innovative technologies are winning more and more people over to the idea of owning a massage chair. That is why we give you tips on how to find a place for your dream model and where to place it, so that becomes a perfect addition to your everyday space.
How do you find a suitable spot for your massage chair?
Nowadays, the market offers massage chairs of all sizes and dimensions. The vast majority of models, especially those that are technologically advanced, require preparation of a 1×2 m space inside the house. However, there are also really small and compact chairs that not only fit into any room (you need a 70×100 cm space), but also deliver massage of excellent quality. A perfect example is the Massaggio Bello 2 chair, which is the first so compact chair with high-tech features available so far only in more powerful models, e.g. massage in the Zero Gravity position or SL-shape. Limited space doesn't have to require compromising and giving up on innovative functions.
When looking for a place to put a massage chair, you should also pay attention to the way it reclines, as this will determine how much space you actually need. There are models that don't recline, ones where only the footrest can be extended and chairs where the footrest can be extended together with the backrest. The Zero Wall function plays an important role in this last group, making it possible to move the chair closer to the wall without having to leave any space for the backrest to move down. Thanks to this function, when standing against a wall, the chair presents itself better and requires less space, even if it is large.
The most popular places to set up a massage chair
Looking for a place to put the massage chair in your house involves first of all the selection of the room in which you want to have it installed. We should make our decision based on where we relax best and who's going to use the massage chair. However, it is definitely most common for the massage chair to be found in a living room. Placing the massage chair in the centre of the house can mean that other household members will be present during the massage, and the TV will be heard in the background. We also have to reckon with the fact that the chair, when exposed to the public, will not go unnoticed by your guests.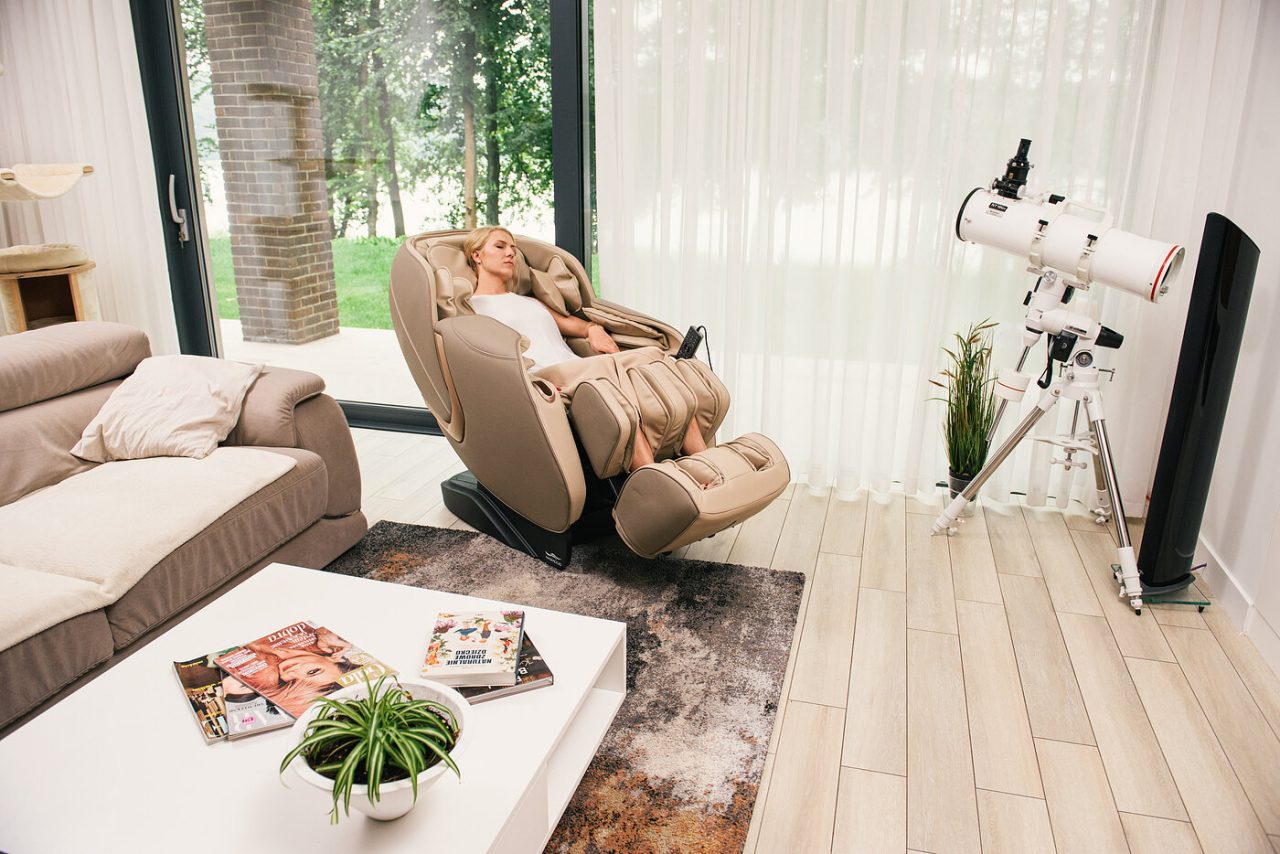 However, if you want to leave the massage chair for you and your significant other, the bedroom will be the perfect place. By placing the massage chair right here, you'll be able to fully concentrate on unwinding and ensure peace, quiet and comfort. If, on the other hand, you have a gym or a private wellness area at home, then having a massage chair right there will provide you with the perfect post-workout recharge or relaxation after stepping away from your work desk.
Moving the massage chairs
Occasionally, however, the initial placement of the massage chair in the chosen location turns out to be unsatisfactory and you decide to move it or relocate it to another room. The size and weight of the massage chair depends on the model, but in most cases they are not lightweight. However, thanks to the castors installed in the massage chair, you can easily move it. On most models, the castors are located at the back – so simply use the backrest to raise the front of the chair, resting its centre of gravity on the castors, and then move it.
You should also remember to unplug the cable from the remote control or remove any other obstacles that may stand in your way. Don't move the chair if there's a risk of scratching the surface or protect it properly beforehand.
The situation gets slightly more difficult if you want to move the chair, for example, to a room on another floor. Then it's necessary to have at least one person assist you. Two people, grabbing the armrests, can lift the chair and move it, then carefully lower it to avoid damage.
Remember that all our chairs are designed to always have precise dimensions. You can find all the dimensions at product card which will hopefully help you choose a chair. And if you have any further questions or concerns, feel free to contact us.
Transcription
Paul, please can you tell me which room is the best to put a massage chair in.
It's totally your choice, it depends on how you intend to use the massage chair and where you like to relax. Some people find it difficult to choose between the living room and the bedroom. If you put a massage chair in the lounge, it's convenient for the whole family and your friends when they come to visit. Everyone can use it all the time, however, you won't always be able to guarantee peace and quiet when you're relaxing.
Why would you put a massage chair in the bedroom?
A massage chair in the bedroom is a good solution for somebody who wants privacy and somewhere to relax in a quiet place. It's also really useful for a quick massage before bedtime and when you wake up in the morning.
Any other places?
There are plenty, and it depends on your home and imagination. The third most popular place is in a home office, next to a bookshelf or a HIFI system. If you have one, why not beside an indoor pool or in a home gym, or alternatively there's always a hallway, or we have even been asked to put one in a garage. As I said, it's entirely up to you.
How much space should I save for a massage chair?
For the majority of massage chairs, about 1 meter by 2 meters, which is the space you need for the reclined position. Compact models should need less space and can go in smaller rooms. If you have a massage chair with zero wall function, this helps significantly when you're deciding where to put it.
Can I move it by myself?
Some of the models, yes. They should have wheels underneath, so it should be easy to move them if you don't have to use stairs. However, be advised that wheels can damage some floor surfaces. In this case and with larger chairs or moving between different levels, you will need some assistance.
Can I just plug them straight into an electric socket?
There is no battery inside, so you need to plug it in. It's interesting to note that massage chairs have very low power consumption, because they can operate between 100 and 200 Watts. Using all the functions on the larger models, only consumes 200 W which is 5 times less than a microwave.