The end of the year, time of summing up, season of joy and giving presents… To thank those close to us for their presence and emphasize what they mean to us, we often look hard for a Christmas gift that would be unusual, out of the ordinary, simply unique. Therefore, even a few weeks before Christmas, we tend to browse through the offers or articles with suggestions for the best gifts. But what to choose, what the recipient will enjoy the most? Apart from our priceless presence and shared moments, what can truly please them? There are many options, but how about a massage chair? Such a gift will certainly make an electrifying impression :-)
Massaging chair for a Christmas present
It's obvious that the massage chair under the Christmas tree is a rather luxurious and unusual gift – you don't get such things very often. Also keep in mind that this isn't a gift that will bring joy to the recipient for a short while, but rather will relax and relieve tired muscles and joints for many years after the holidays. Regular massage in the massage chair has many benefits, such as relaxation of accumulated tension, better blood and lymph circulation and the release of endorphins. It's therefore a Christmas gift, which will work towards promoting relaxation, well-being and health at the same time.
Alright… but will this particular massage chair that you have chosen be suitable?
When you opt for a massage chair for a Christmas present, you should first pay attention to the needs of the person you want to bestow. Having them in mind, it's much easier to decide on a specific model. For example, if your wife, mother or sister has a standing job and struggles with leg aches, a chair with a roller foot massage, for example, will make a perfect gift. If you suffer from muscle tension in your neck or loins, a chair that features a pressure point massage will help, as it gives you the option to direct the massaging arms specifically to the sore spot.
Our carefully designed product range includes unique massage chairs, each with a different set of functionalities – from the most basic, such as calf or foot massage, to the most technologically advanced solutions, including Zero Gravity and SL-shape. In such a carefully selected offer you will find the most suitable model for a gift for those close to you – whether it is the classic Conveniente, modern Eccellente 2 Pro, fully personalized Keyton or the most prestigious Fujiiryoki JP2000.
But isn't it too late?
Christmas will come before you know it. Don't hesitate, because it's just around the corner, and no one likes to look for gifts at the last minute…. Especially when it turns out that others are ahead of you and they've just run out of what you wanted. That's so annoying! And if you are worried whether we'll deliver the massage chair in time for Christmas, rest assured that if you choose courier delivery, you can have it the following day. And if you choose Carefree Delivery with delivery and installation, we'll bring it to you personally within 4-5 days. We will definitely manage to get it to you before Christmas Eve.
Can I afford such a gift?
We simply don't know, but we offer massage chairs in various price ranges, from the most exclusive in the world to fully functional economical solutions. When buying Christmas gifts, a collective family fund raising is a good idea. We guarantee that you'll solve other family members' Christmas dilemmas in the process. We also offer various forms of financing the purchase – instalments or leasing.
This gift will not fit under the Christmas tree
You can be sure that a massage chair placed under, or actually next to the Christmas tree, will come as a huge surprise. And if you decorate the chair with a red bow, it will surely look spectacular and make a great impression not only on the recipient, but also on the whole family.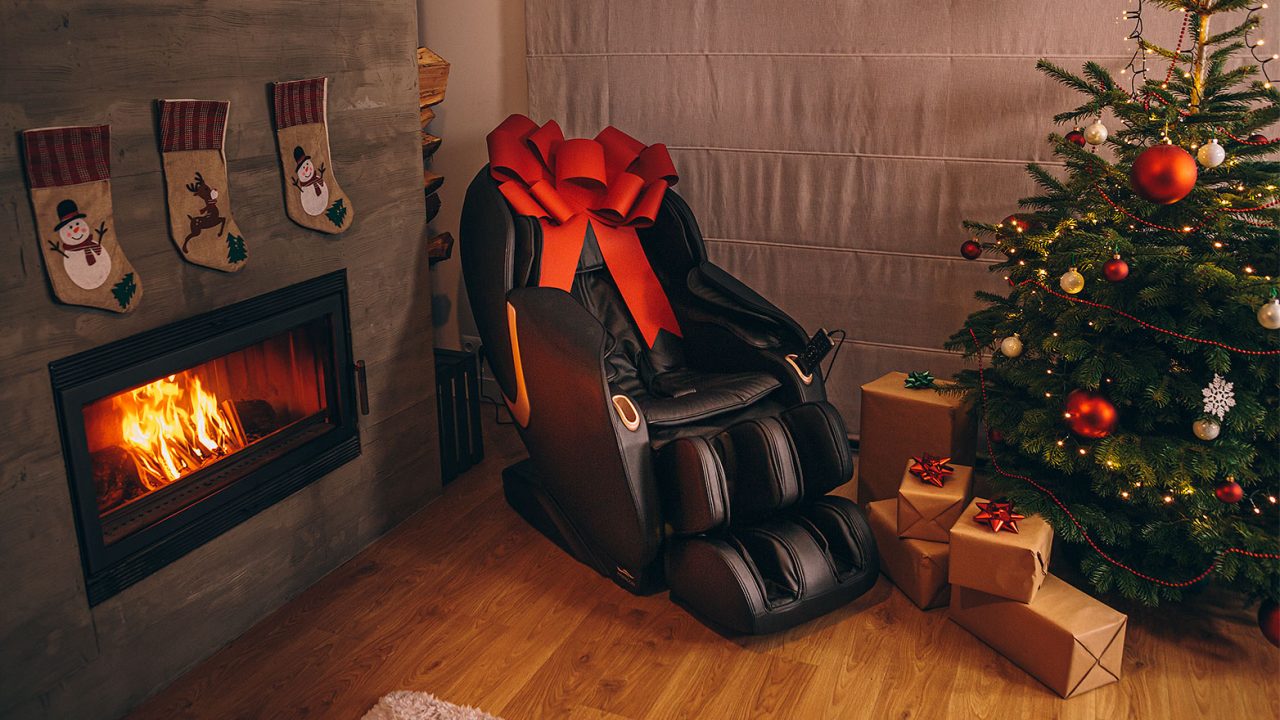 So if you're thinking about a massage chair for Christmas, check out our product page… and just go for it! And if you have any doubts, questions or need help in choosing the perfect model, just give us a call and our Expert will answer all your questions. You can also come to one of our intimate showrooms and see everything for yourself. or alternatively, we can come to you with a demonstration of the model of your choice.
And more about how to choose a massage chair for a present and make a wonderful surprise for those dear to you, can be found on the dedicated page.