In the fifth episode of our vlog about massage chairs we go back to our roots and answer the question where the massage chairs actually come from.
More and more people are using the massage chairs, appreciating them for their effectiveness and incredible relaxation effects. Few people know, however, what their story is. That is why in this episode Paweł tells us where the first massage chair was produced and where the biggest factories in the world are located as of today. He also reveals whether massage chairs are manufactured in Poland.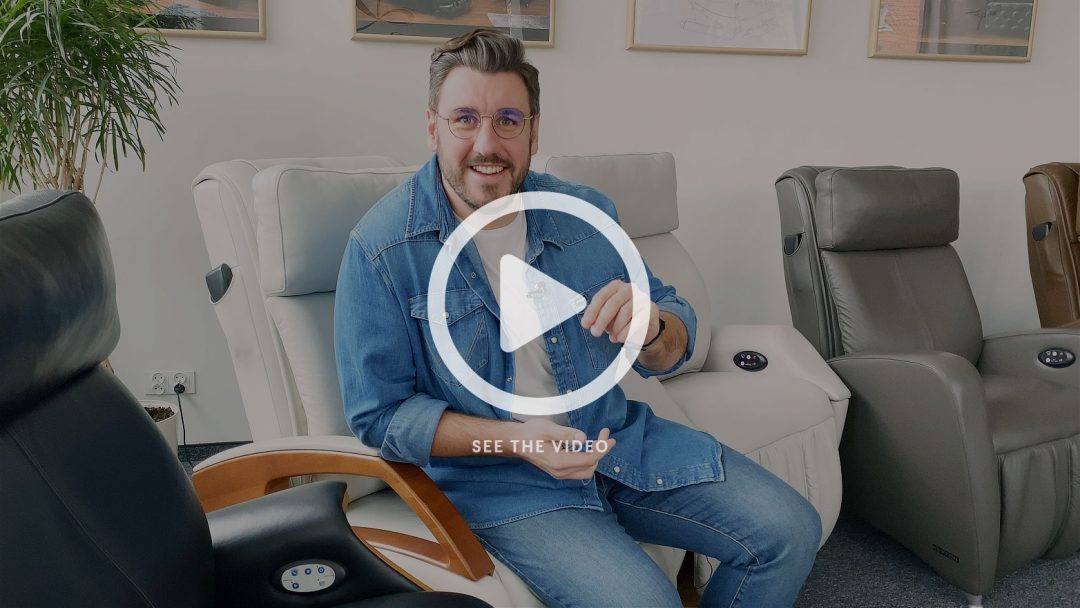 Related articles:
If you are interested in massage chairs and you haven't seen all the episodes of our vlog, check out the VLOG category. And if you have already decided on a massage chair for yourself or if you have any questions after watching the episode, feel free to contact us.
Transcript:
– Paweł, where do the massage chairs come from?
– The story began well over half a century ago in Japan. There, in Osaka, a man named Nobuo Fujimoto constructed the first massage chair for mass production. That's where it all started. This model looked horrible; if I were to judge it today, I'd say it's a torture chair, made of wood and so uninviting, but if some people want it so much, they can suggest it to their mothers-in-law :) And all this was developed there, in Osaka; these models started to be more and more sophisticated, new technologies were added, right there in Japan, in Fujiiryoki.
– Is it still happening mainly in Japan?
– Maybe not in Japan, but in Asia. Why? There is huge demand for it, the massage culture in Asian countries, in massage chairs or manually or with other devices, is extensive. There, the demand for massage itself is huge and the biggest production of chairs happens there. China is of course the biggest market, then Taiwan, Korea. And there, despite everything, if you order the production correctly, if you pay adequately and keep an eye on it, you can get really neat, innovative equipment. Japan is extremely advanced technologically because of its experience, and because of its approach, it is a benchmark of the highest quality on the market. However, a lot of good chairs come from China, Taiwan and Korea.
– And what about other countries?
– As far as I know, there was production in the United States. I don't know if it's still being maintained, but the massage chairs there were more bulgy in shape, with sizes tailored to the Americans. Joey from "Friends" had that kind of chair. The second type of American chairs is more of an office kind, conference chair with a massage function. Is it still continued – it is hard to say, because most of the production is commissioned in Asia since it is more profitable.
– And Europe?
– Here we can boast the only European product that we have the pleasure to sell. These are Keyton chairs. In the 1970s and 1980s, when Keyton's founder was at the Las Vegas fair, he noticed these massage chairs, whether American or Chinese, of Japanese, and they were all black and looked bad. So he set up a company in Spain, a manufacturing plant, and the first Keyton chairs were made right there. They are characterized by a gorgeous design, I'm sitting on such an chair as we speak. What's more, we can completely personalize them here, there is a choice of colour, upholstery and wood and the quality of this leather, whether it is to be more noble or just plain fabric upholstery. Here we have a wide range of customisation features and a great quality, designer product, with a great massage functions, with sophisticated technology, perhaps a bit more relaxing, a little fewer functions, because this design would limit us a little bit here, but still really cool.
– So there are no Polish massage chairs?
– From what I know, there aren't. I would like to open such a factory here myself. However, the rest of the brands that are present in Europe today rely on the production drawn from China, Japan, and it's not only technology, it actually have to be Japanese products. So, there are no other European manufacturers of massage chairs here. ​