The first episode, a pilot of sorts, is already available on our channel on Youtube. However, we are not slowing down and we are publishing another video. We start from scratch, so at the beginning we present a short overview of the massage chair market. In this episode, Paweł demonstrates what types of massage chairs are available, explains what classes they can be divided into and explains the differences between models and outlines their price range.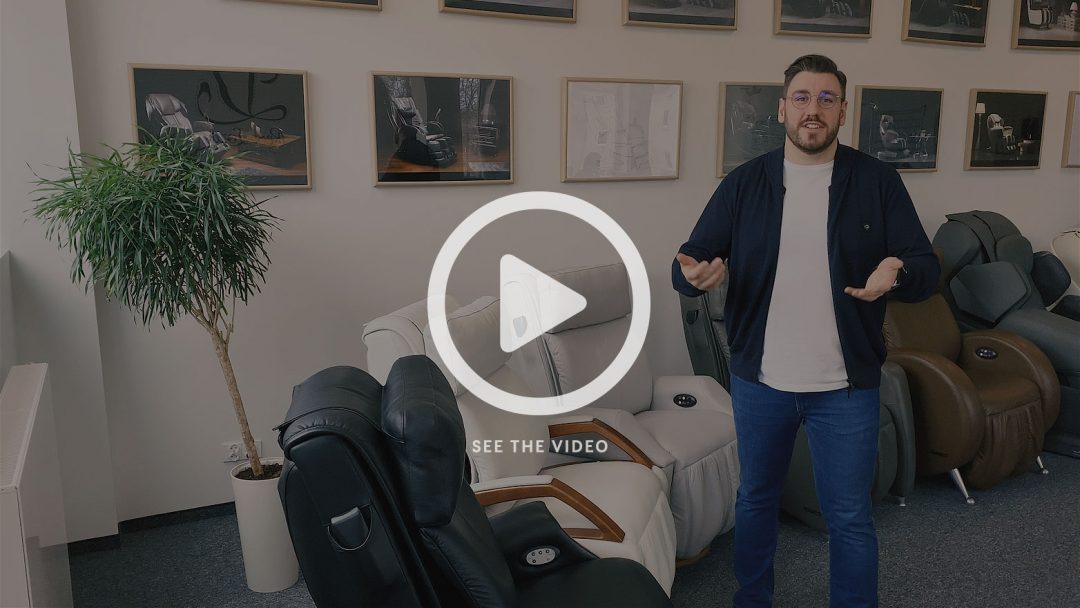 We invite you to follow Rest Lords. If you have any questions after watching the videos, do not hesitate to contact us.
Related articles:
Massage chair – which one to choose?
Price of the massage chairs.
Transcript:
– Okay, Paweł, but what can we find on the market?
– Listen, dozens of chairs in Poland, hundreds around the world.
I'll try to put these chairs into some groups to highlight the differences. We'll create segments and classes to gain initial insight into the market.
In general, before you look into the massage chairs category, there is a group of devices such as massage mats, both working on their own or used on some kind of rack, and here, when you're lucky, these devices also work. This comes before the massage chairs.
And now, let's start with the first group. And here, as you can see, is more of a group of compact massage chairs, little bit smaller in shape. Those that fit in with the interior of apartments or smaller spaces. Also, these are chairs that offer basic massage, i.e. they use several techniques of massage from the neck to the lumbar region, the buttocks, they feature calf massagers and some of them are foldable. And these chairs cost from 3 thousand zloty up.
Next we have a bit more advanced massage chairs that can now scan the line of the spine, adjust to height and also have foot, arm and forearm massagers and further on, for example, heating and foot rollers, Zero Gravity position or 3D massage function. All of these functions actually affect the results of the massage, and make it even more relaxing and effective. These are chairs cost approximately between 8 and 18 thousand PLN, so here we have another segment.
Moving on, as you can see, there are five massage chairs here, but actually it is one massage chair in five different variants, designs. And in case of this segment of massage chairs, the key feature is that we can fully customize this chair, that is, we can choose the type of upholstery, the type of wood, we can choose the colour of the upholstery, which will allow us to match interiors, flats, houses, and finally, to match company colours. This segment of massage chairs is valued between 15 and 20 thousand PLN. And this constitutes the next stage.
And now we move on to models that are among the most advanced, technologically most sophisticated. These chairs are usually made in Japan and offer a lot more functionalities, they both massage and are manufactured with great precision. They perfectly imitate the movement of the human hand. Here we should be prepared to pay even 30-40 thousand PLN for one.
As you see, the offer is extensive. Even in these groups, we already have different types and different price ranges. So we're going to discuss it all. We'll discuss their functions, their possibilities, and I'll also get you to know these groups in detail.
– You've mentioned Lamborghini…
– Yes, yes, there's another group of the most expensive chairs. Here, Lamborghini has also released a massage chair under its brand. However, in this case we have to consider the expenditure of about 120 thousand. Of course we also invite anyone interested in this chair.