End of the year, time of joy, summing up and exchanging presents… Right before Christmas, we tend to look for gifts that would be unusual, original, simply unique. The possibilities are endless, we start browsing offers or articles with tips about the most attractive gifts a few weeks before Christmas. But what to choose, what will appeal to the recipient the most? Aside from our invaluable presence and time spent together, what can really please the person receiving the gift? What about buying a massage chair then? Such a gift will surely make a striking impression :-)
Massage chair for christmas
is obvious that a massage chair is a luxurious and rather unusual gift – such gifts are not given too often. Note that it is not a gift that will please the recipient for just a moment. The massage it offers will take care of your comfort, well-being and health at the same time, and it will also continuously relax, bring relief to tired muscles and joints years after Christmas.
Alright… but will the massage chair of your choice be the right one?
When you decide to give a massage chair as a Christmas present, first of all you should consider the needs of the person you want to give it to. It is much easier to decide on a specific model when taking them into account. For instance, if your wife, mother or sister works standing up and struggles with leg pains, a chair with a roller foot massage is an ideal choice. A chair with a point massage function, which gives the possibility of directing the massage arms specifically to the painful spot, will help to relax the tense muscles around the neck or lumbar region. And if you have any doubts, questions or need assistance in finding the ideal model, just call us and our expert will answer all your questions.
Our carefully selected product range consists of unique massage chairs, each with a different set of functions – from the most basic ones, such as calf or foot massage, to the most technologically advanced solutions, such as Zero Gravity or L-shape. Whether it's a classic Conveniente, a modern Esclusivo, a fully personalized Keyton or the most prestigious Fujiiryoki JP2000, you'll be able to find the perfect model for your loved ones in our carefully thought-out product portfolio.
Isn't it too late, though?
Christmas time will come before you know it. Don't linger, because it' s just around the corner, and nobody likes to look for presents at the last minute… Especially when it turns out that others have been ahead of you and what you're looking for is gone. How irritating is that?! And if you are worried whether we can deliver a massage chair in time, we assure you that when you decide on a courier delivery, you can have the chair the following day. However, after selecting Safe Delivery with door-to-door delivery and assembly, we'll transport it to you personally within 4-5 days. We'll be able to deliver it in time for Christmas Eve for sure :)
Can I afford such a present?
We don't know that, but we offer massage chairs in different price ranges, from the most exclusive in the world to fully functional cost-effective solutions. It is a good idea to pass the hat around when buying Christmas presents. We guarantee that you will solve the Christmas dilemmas of some of the other members of your family. We also provide various forms of financing the purchase – like installments or leasing.
THIS PRESENT WON'T FIT UNDER CHRISTMAS TREE
You can rest assured that the massage chair placed under, or rather next to the Christmas tree will be a huge surprise. And if you wrap the cardboard box with the gift paper and place a red bow at the top, it will surely look spectacular and make a lasting impression not only on the recipient but also on the entire family.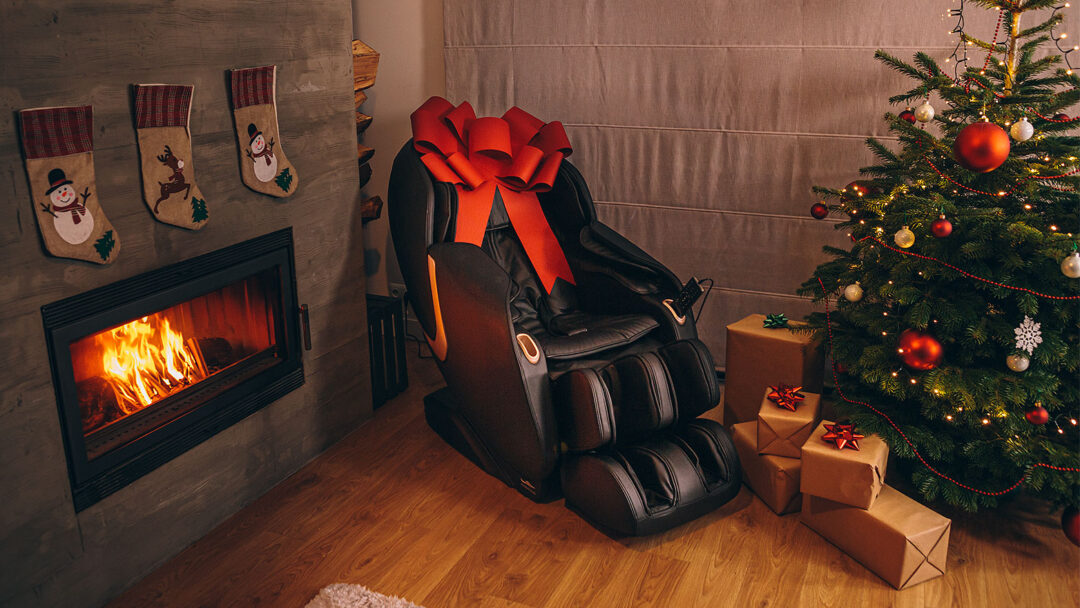 So if you are thinking about a massage chair for Christmas, take a look at our product range… and let's do it! And if you would like to consult your choice or if you have a question, feel free to contact us.