In our vlog we've already covered numerous topics associated with massage chairs. There was a bit of history, in-depth explanation of how they function, descriptions of technologies used accompanied by comparisons of individual models. However, there is one more thing, perhaps mundane, but it is something that customers often ask about. How to look after a massage chair, how and how often to clean it and whether any special products are required. And it is these and several other questions that Paweł answers in the latest episode of our vlog. Watch and enjoy the video.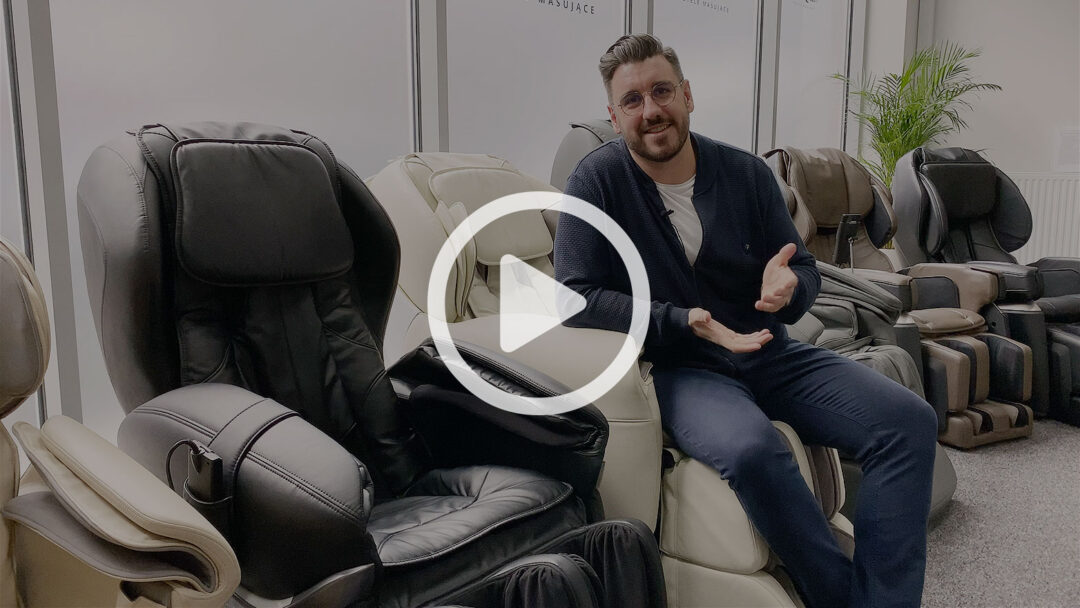 Related articles:
If you'd like to know more about massage chairs, check out the Vlog category, where you can find other vlog episodes about massage chairs. And if you have any questions after viewing, feel free to contact us.
Transcription:
– Paweł, let's imagine that there's some birthday party going on. You know, sometimes the cake can end up on the chair, sometimes the children will grease it with chocolate… How to start cleaning the massage chair?
– In such a case, we can clean up the stains and dirt without any problems. The chairs are made predominantly of synthetic leather, which does not absorb odours, water and is relatively easy to clean. And it covers the largest part of the chair. There are dedicated cleaning agents that are based on water. One of them can be used for cleaning dirt, the other one is more for maintenance, impregnation of leather. So after every such extensive staining by cake, pen, crayon, jeans it is worth cleaning it right away (it's important). However, regularly, every two months or so, it is worth refreshing your chair by cleaning and preserving it with these agents. Let me remind you that we also offer such products and they work perfectly.
There are also some elements in the chair, as you can see here – at the shoulders, calves and feet – these are finishing touches. Most of the chairs have these elements with zippers so they can be cleaned in the laundry room or cleaned on the spot with cleaning foams, upholstery cleaners or vacuum cleaners. This way you can also keep this equipment as tidy and clean as possible. There are also plastic parts that can be cleaned with cleaners for smooth surfaces – you can keep them clean with ease. In extreme situations we act immediately, and normally we should carry out such maintenance of the chair once every two or three months. 
– Do you clean dark and light chairs differently?
– No, it doesn't matter at all. There are agents for both black and light chairs. Here, I'm on the bright coloured Massaggio Esclusivo. This model is 3 years old, cleaned, maintained and has no signs of wear and tear or dirt at all. You'll sooner see a scratch on it somewhere, it may have happened during these 3 years, sooner than a difficult to clean stain. As I've already said, it is vital that we react quickly, especially to jeans that are dyeing a lot. It's also important not just for massage chairs, but also for other upholstered and leather furniture, that this denim does pose a problem… and a pen or crayon in a child's hand is another one, so here, the quick reaction in these extreme moments counts most.