Keyton is the only European massage chair brand. Founded in Alicante, Spain, this small family business is today a world-renowned manufacturer of chairs with distinctive designs and state-of-the-art technology. Below, Paweł reveals what makes the European models stand out, what their features are and what else is worth looking out for.
Customisable massage chair
Having a massage in your own private relaxation area arranged with attention to detail, where every element fits together to create an aura of harmony and tranquillity, is incredibly enjoyable. To best suit your interior, Keyton offers a choice of 5 timeless designs. Each of them has distinctive elements that not only impress, but above all emphasise its uniqueness. One will fit perfectly into a classic décor, another will fit perfectly into an atmospheric interior. Wooden elements find their way into Scandinavian-inspired spaces, while minimalist models are most often delivered to corporate office spaces.
Tailor-made massage chair
Once you have decided on the ideal design, it is time for the next stages of customisation. When choosing a massage chair from the Spanish brand, it is possible to decide on the colour, wood and upholstery. Models can therefore draw attention with stunning colours – red, orange or blue – or subtly complement the décor with pastels or shades of beige and grey. Moreover, Keyton distinguishes itself by using the highest quality natural leather (with unique textures) and fabrics, as well as beautiful walnut or oak wood in its massage chairs. The combination of such fine materials is an investment for years to come, which will prove its worth even in the face of frequently changing fashions.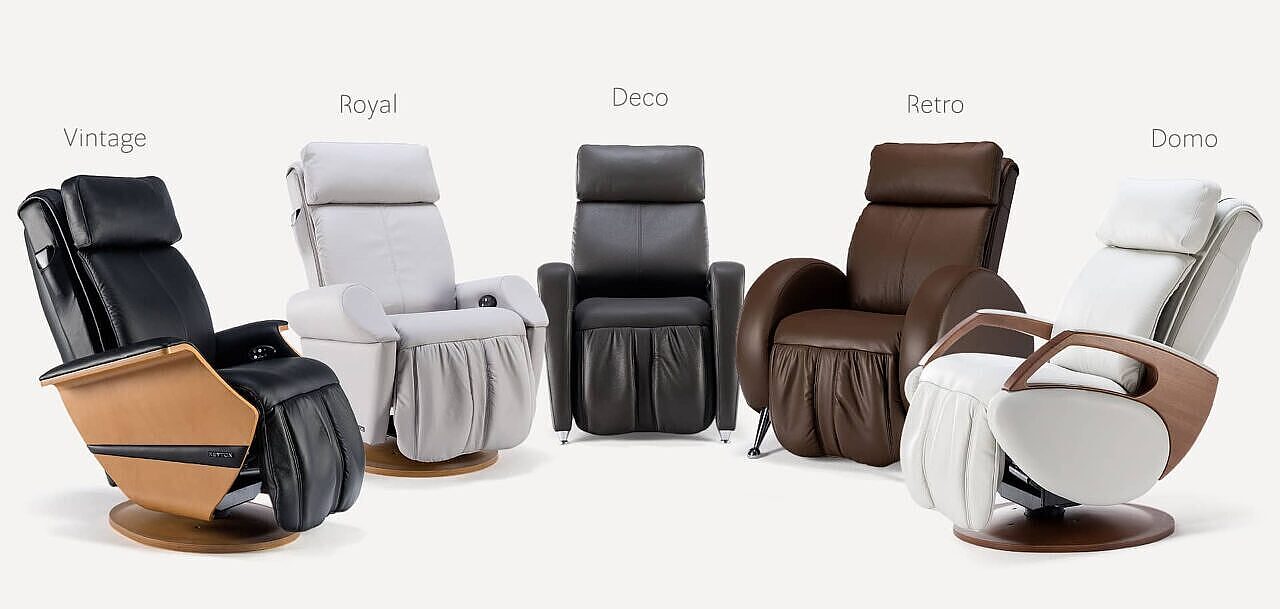 Non-standard customisation of massage chairs
On top of standard customisation, such as the choice of colour or fabric, the Spanish brand carries out special orders. Those with special requirements can therefore bring their most unusual ideas to life. If you need a chair with an attached reading light, a built-in e-book reader or have other ideas, just ask – we can make most of them happen. One such solution, often chosen by companies, for example, is embroidery. So you can have your company logo or name on the chair or, if you are buying the chair as a gift, you can put your wishes or the name of the recipient on it. In fact, we are only limited by our imagination :) And although you may have to wait a little longer for such a personalised chair, the end result will certainly make up for the wait.
2-in-1 massage chair – combining massage and relaxation
In addition to being completely customisable, the Keyton H10 integrates a lounge function with massage. At first glance, it does not look like a typical massage chair, but thanks to the creative work of the designers, it has been possible to hide a professional and extensive massage mechanism underneath the beautiful design and leisure character. It is two chairs in one, so you can decide for yourself which one to use.
Unlike other massage chairs, the Keyton H10 has a very soft seat, an extra fluffy cushion wrapping the backrest and very comfortable calf massagers. This makes it effective as a traditional lounge chair. As with typical massage chairs, you can recline the seat to any position without triggering the massage, but in this case you can easily sit in it for hours while reading, snoozing or simply relaxing.
On the other hand, after removing the comfort cushion, the massaging arms gain access to our muscles and we can start enjoying the massage, which is truly unique in the Keyton massage chair.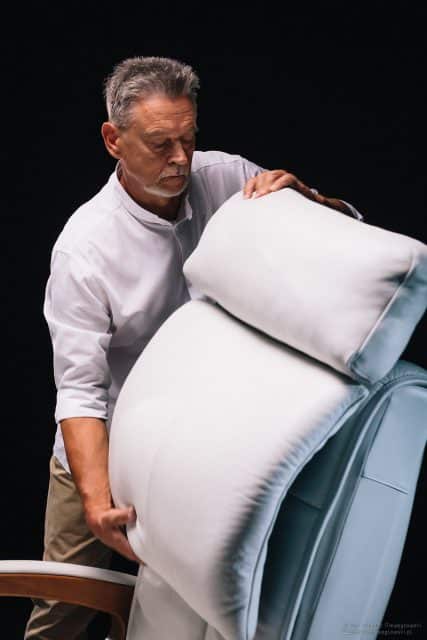 The Keyton H10 massage chair is distinguished by its proprietary, detailed massage. Using state-of-the-art technology, the designers of the Spanish brand have created both a precise and stress-relieving system. Unique, intelligent scanning that adjusts the massage according to the 128 most characteristic points along the line of the spine ensures an extremely accurate and highly relaxing massage. In addition, the patented calf massage technology effectively restores lightness and relaxes the legs through massage and stimulation of circulation.
As you can see, the Keyton H10 can create a one-of-a-kind, truly unique relaxation space in your environment. If you're thinking about a customisable massage chair or want to use it on a daily basis for relaxation, take a look at our product range. And if you have any further questions, feel free to contact us.
Transcript
– Paweł, you've already discussed the differences in the Massaggio chairs, but I can see the whole range of Keytons here.
– Keyton is a separate brand. You see the whole range, yet you must know that the massage system present in all these chairs, and there are 5 of them, is the same. That's the massage system called H10, developed by the Spanish brand – Keyton, and in fact each of these chairs share the same system. It's quite advanced, featuring scanning of the spine line. It detects 128 points on your back and adjusts the massage following the result of such scanning. There are several standard massage techniques, several automatic programs, so it's a pretty cool massage chair, but it's a really relax-oriented version. We won't get an extremely strong massage here, just a typically nice, pleasant, relaxing one. When it comes to massage, that's something else, something completely different from the chairs we've discussed so far, namely the whole Massaggio brand. But what's the main difference between these chairs and the rest of the market? It's the fact that these are designer chairs that are highly personalized. You have 5 different designs here – we have Vintage, Domo, Royal, Deco and Retro. This is the first level of personalization – you have the option to choose which design you think is the most attractive, which you like best and then we can go further with customization. You can choose from 3 types of upholstery, starting with traditional fabric, Carabu, followed by natural leather available in two classes. There is a special name for one – semi-aniline faced leather and yes, it's found in these massage chairs, we can easily manufacture upholstery in selected quality of leather.
Moreover, you also choose the colour of the upholstery and we offer the entire palette. There are about 60 colours available as part of the basic colour range, so you can easily match the colour of your room, be it at home or in the office. That' s the next level of personalization. And in fact this is the standard level of personalization we normally provide. However, you have to remember that Keyton is a Spanish manufacturer of massage chairs and the it's only producer in Europe. If you feel like trying something different, more advanced or have some individual preferences for a massage chair, we can price it individually and tailor it to your specific needs. For instance, it's possible to install a lamp so you could read in the evening, we can include a USB port, we can make the seat wider if it is too narrow, we can actually add different things to these chairs.
– And I've heard that they are 2-in-1. What's this about?
– This is yet another difference between Keytons and all the other chairs on the market. Keytons have a 2-in-1 functionality, which means the chair serves as both the leisure and the massage chair. Naturally, all the chairs can be used to just sit and relax. However, the Keytons are the most comfortable. Their seat is ultra-soft, as is the backrest. We can recline the chair a bit and simply sit, unwind, watch TV or read a book. There is no need to turn on the massage function. It is extremely cosy. However, once you take off the relaxation pillow, tilt the chair back, then you get access to the massage chair equipped with a whole range of automatic programs and all the technology hidden inside. That way you get closer to the massage therapy, you sit down in the chair and start it, move on to the lying position and then enjoy a proper massage. And that's the other function, both massaging and relaxing. These soft cushions along with the soft seat make it most comfortable for us to use the chair even for simply sitting down, so to speak. These are the main differences in Keyton – in-depth personalisation, focus on design and top quality workmanship, because these are the only chairs available in natural leather and additionally we get the 2-in-1 function, i.e. relaxation and massage at the same time.
– So, let me understand it correctly, if I wanted to order a massage chair with leopard's spots finish, Keyton could do it for me, right?
– It's possible, we'll write an email right away, see what the factory in Spain says. I believe it's possible. We've heard about cow pelt finish, with distinctive patches… It has been done somewhere :-)