As much as we love all of our current models and take pride in the extremely well thought-out portfolio we have developed, it's high time we refreshed it and introduced some new models. We are therefore pleased to present as many as 4 new models by Massaggio brand, distinguished by innovative technology and stunning, modern design. Testing, comparison, videos and photo shoot is over, so now's the time to reveal what's so special about these new chairs.
What makes the new massage chairs by Massaggio stand out?
We listen to the opinions of our customers carefully, we use the experience we have gathered over the years, we gain knowledge and apply it to new designs. That's why each of the new models focuses on classic, but also unobvious combinations of colours. This will make it even easier for you to match them to your actual interior, turning them into a perfect and memorable accessory. So, the colour palette will include classic blacks, always fashionable browns and beiges, and a rare combination of caramel and mahogany, which evokes the greatest emotions in us :-)
Eccellente 2 PRO and Eccellente 2 – massage, design, quality, everything you need to unwind
Two, absolutely unique, new versions of the well-known Eccellente model. The new model comes in two functional variants. The PRO version is equipped with a relaxing, roller foot massager, whereas the other one does not have this feature, which can be a perfect solution for company's relaxation rooms (it's quite simple – there is no need to take your shoes off :-). However, in either case Massaggio Eccellente 2 is an unusual combination of a beautiful, subtle line with premium features. Eccellente 2 PRO is available in no fewer than three colour versions: black, beige and caramel-mahogany. Eccellente 2 have one: black.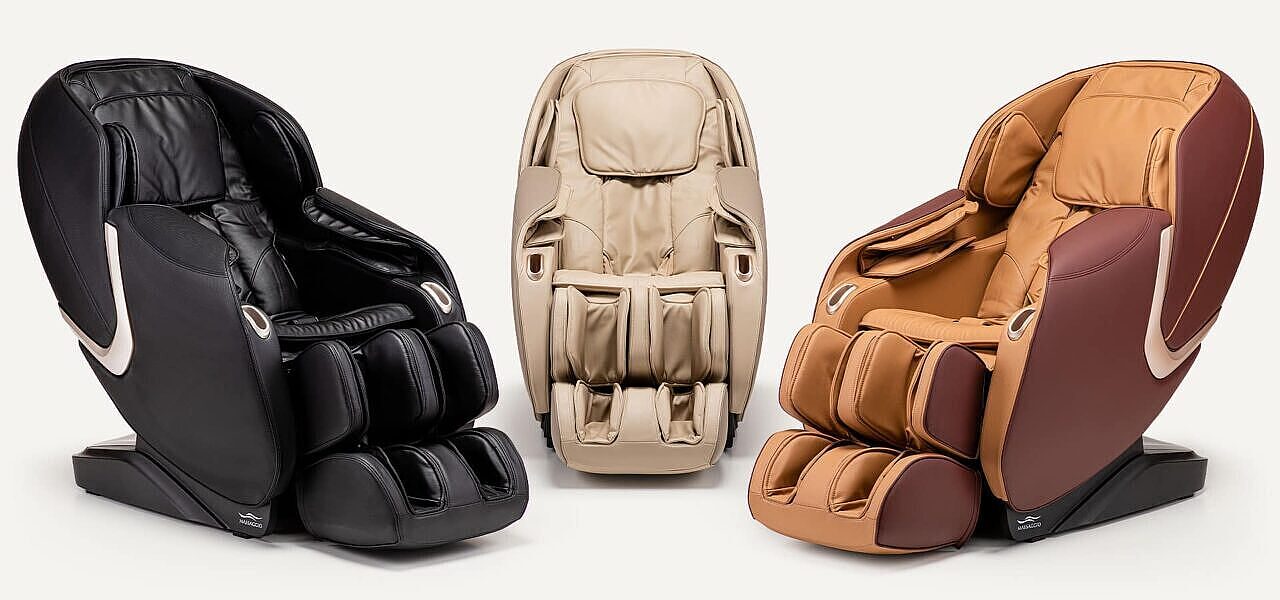 Zero Gravity
SL-Shape
Calf and feet (PRO version) massage
Heating
Price: € 2 970 (PRO version), € 2 570 (version without feet massage)
For more details click here – Eccellente 2 PRO and Eccellente 2.
Esclusivo 2 – satisfaction goes even further
The new version of recent years' bestseller the visually refreshed and improved by many innovative features. This model brings out the longest SL-shape, which not only covers the back but also the buttocks and even the thighs. Roller foot massager and the innovative, first-ever calf compression massage will also provide a truly unique experience. Another novelty is the additional user friendly control panel providing access to the most important functions. Esclusivo 2 is available in two colour versions: brown-graphite and ecru white.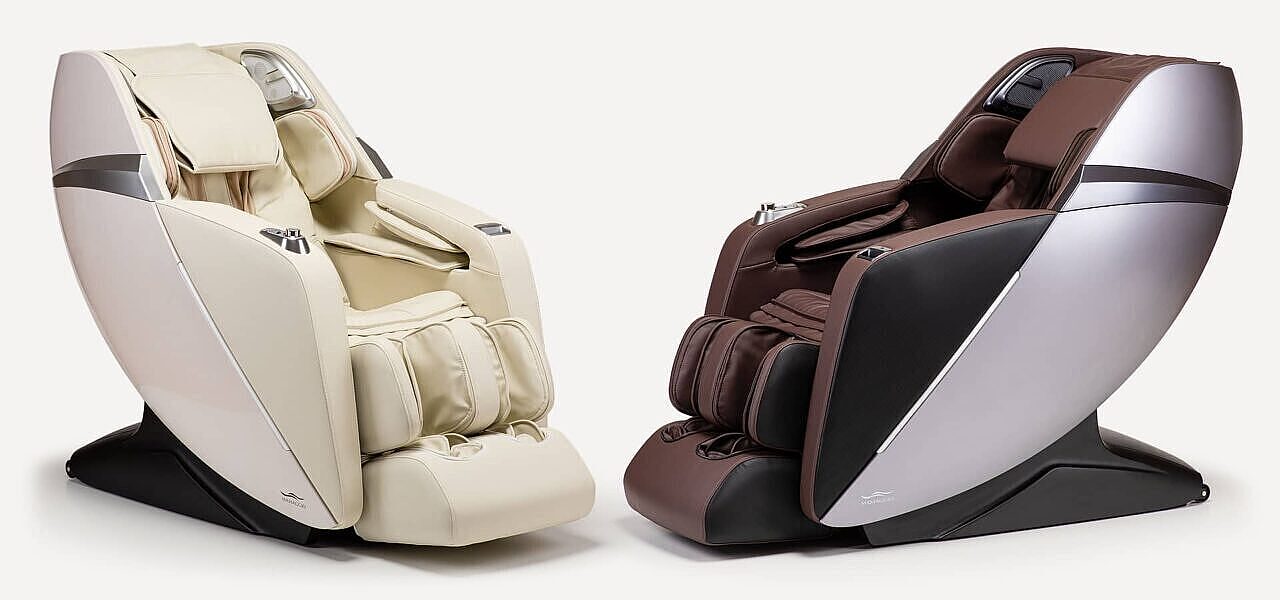 Zero Gravity
SL-Shape, length 135 cm
Kneading calf massage
Feet rollers
Heating
Zero Wall
Price: € 3 570
More details can be found here – Esclusivo 2.
Stravagante 2 – the best of the best
The largest model of the Massaggio brand has also been upgraded in a new, improved version. What makes it stand out is its futuristic design and a whole range of advanced features to ensure a refreshing break. Thanks to the 3D system and extremely precise scanning, it provides a perfectly tailored massage. The relaxing effect of the massage is also enhanced by: Zero Gravity massage, roller foot massage, airbag massage system, heating, ionizer or automatic stretching program, which resembles a pleasant, morning stretch workout. Everything this chair has is simply "the most…" :-) Just like Esclusivo 2, there is also an additional, conveniently located control panel. It is available in two colour versions: graphite and cream-graphite.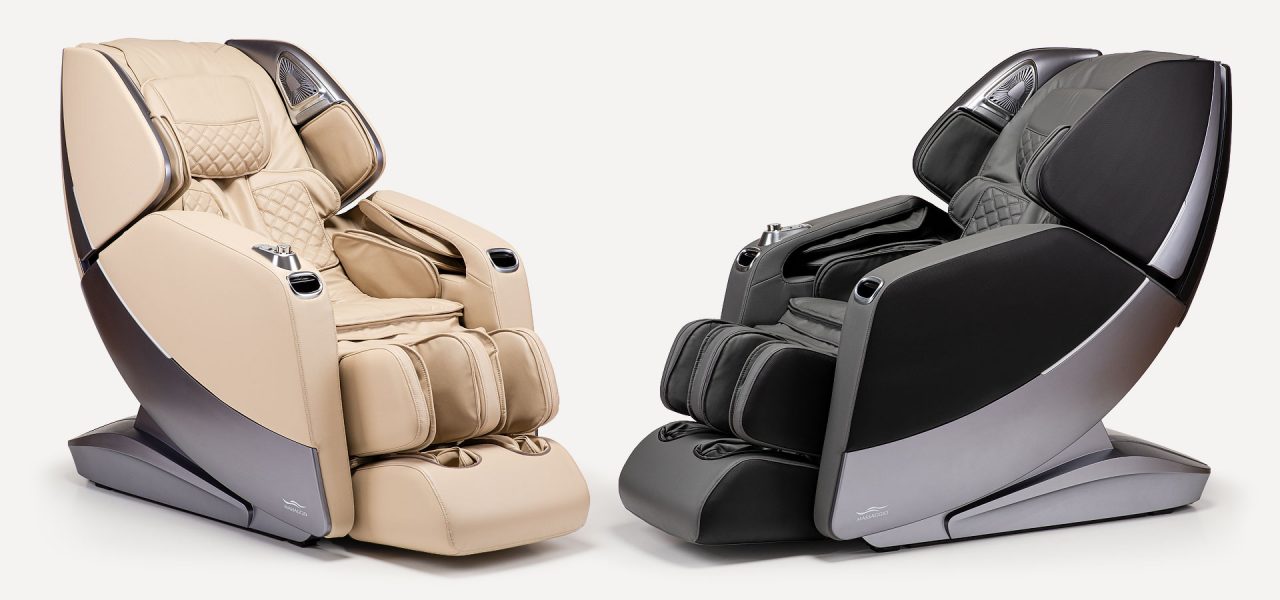 3D massage
Stretching automatic program
Zero Gravity
SL-Shape
Feet rollers
Zero Wall
Zero Wall
Price: € 4 970
More details can be found here – Stravagante 2.
If you like one of our new models, please see their detailed descriptions and if you have any questions, feel free to contact us.