Occasionally, when talking to a client, we suddenly hear the question "Which chair would you choose for yourself" or "Which chair would you recommend?". Hearing such questions again and again, we decided to take a look at it, check and find out which massage chairs are most popular among ourselves – Rest Lords employees. And since we have all the models at hand in our showroom in Olsztyn, there is plenty to test and choose from ;-)
Which massage chair is chosen by rest lords employees? 
We start with Monica, who has been with us for the shortest time, but who's already managed to test all the models and fell in love with Massaggio Esclusivo. Reasons? She says that it's everything :-) But pressed for details, she mentions that mainly the rollers under the feet, which are incredibly relaxing and useful especially after a long day spent on high heels. She loves it for the air massage of hands, which relaxes and removes tension. For the extended massage range, thanks to which Esclusivo also massages the buttocks. It is a very comfortable chair, where you can fit in perfectly, which will pleasantly wrap you up, especially if you turn on the heating, and finally, it looks great – it is feminine and bright.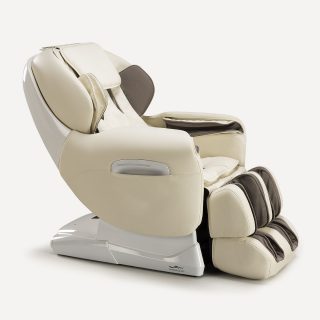 Irek, who runs our website, can usually be seen in Massaggio Piccolo. Why there? Irek mentions the absence of a leg massager as its greatest asset. This allows him to sit in the chair while working, even with a laptop or mobile phone. It is simple, and the massage itself, as Irek says, is cool and is rated at 10/10. It is also supposed to be more recreational than therapeutic. The massage of the lower back and buttocks deserves particular attention. A big advantage is that despite being 180 cm tall, Irek simply feels comfortable in it. 
I give it 10/10!
In turn, Piotr has chosen Massaggio Stravagante. as his favourite. Due to his height, 190 cm, he feels there most comfortable and at ease. He also likes two massage arms and according to him they are much better than four in Esclusivo ;-) And given the sedentary mode of work and tense back muscles, the stretching that is available in this model is particularly important. Piotr, however, usually uses his massage chair after a workout. He then chooses the relaxing Fatigue Recovery program, which improves blood circulation and contributes to better muscle regeneration.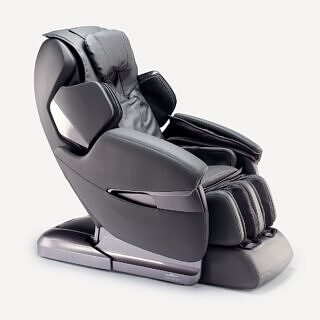 We also asked our suppliers about their favourite massage chair. They are the ones who most often witness our customers testing their massage chairs. Marek has opted for our most advanced model, the Fujiiryoki JP1000.When asked what he liked so much about it, he highlighted the number of functions. According to him, there is no chance that the massage in this chair will ever get boring. It's a lot of fun! Another thing that attracts attention is the incredible precision of the massage and the execution with the greatest attention to the smallest details.
This chair is very enjoyable.
Damian, on the other hand, prefers massage in Massaggio Esclusivo. Just like Monika, he noticed a great buttock massage and foot massage rollers. After all, it is the feet that have the most receptors, so this massage perfectly relaxes the whole body. Interestingly, Damian also mentioned blue leds – after all, blue is his favourite colour :-)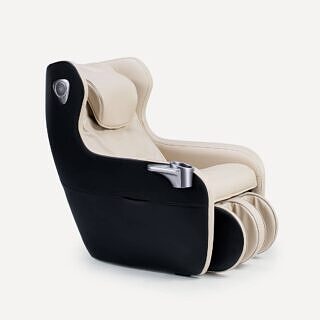 I, Marta, also have my favourite chair, or rather chairs :-) At some point my heart was split in two. One half belonged for a very long time to Massaggio Esclusivo, where the massage is in my opinion really exceptional. It covers the whole body, features heating and pleasant relaxing programs. And it is definitely the most beautiful of all models. Last year, however, new chairs appeared in our product range and my attention was drawn by small Massaggio Ricco. It is extremely comfortable and delighted me, above all, with its separate neck and neckline massager, with additional heating. It can't get any better! Besides, it is great for work at computer desk, which you can see in the title photo :-). 
The most beautiful of all models
Grzegorz, on the other hand, is an avid fan of Massaggio Stravagante… he enjoys the freedom he feels while being massaged in it. It is the largest one in our portfolio and can be fully customized to suit individual needs. Quite an intensive back massager and a system of foot rollers are elements that help Grzegorz to relax after a day of arranging appointment with clients. Grzegorz is a realist and it is extremely important to him to correlate the right price and number of functions, which is what Stravagante provides.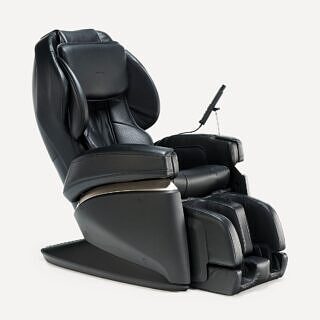 And it's time for Paweł…, having tested hundreds of massage chairs, both from our offer and from other brands from all over the world, he has pointed to two models, i.e. Japanese Fujiiryoki JP2000 and its successors and Massaggio Esclusivo, as his favourites. Fujiiryoki is the only chair that is able to meet his very high requirements and ideas about accuracy, precision and number of options. He keeps saying that if there is any annoying tension after a workout or long hours behind a desk, only Fujii is able to tackle the problem quickly and precisely. Whereas Esclusivo with its Zero Gravity, L-shape and foot rollers offers an incredible massage fun. Paweł recalls fairs and exhibitions, during which the massage roller system in Esclusivo freed him from the pain of tense feet…
As you can see, there are as many opinions, as people :-) Each of us has different requirements, different posture, different needs… Thanks to carefully prepared and varied offer everyone can easily find a suitable chair for themselves. So, if you think of a massage chair and have questions, feel free to contact us.