In the eighth episode of vlog on massage chairs we address issues that are among those most frequently mentioned by our Customers. While testing the massage chairs or choosing the ideal model, questions arise whether this very model will suit a person of such height and weight. Paweł gives suggestions on how to adjust the massage chair to your height and weight most effectively. Finally, he clarifies the issue of children using the massage chair.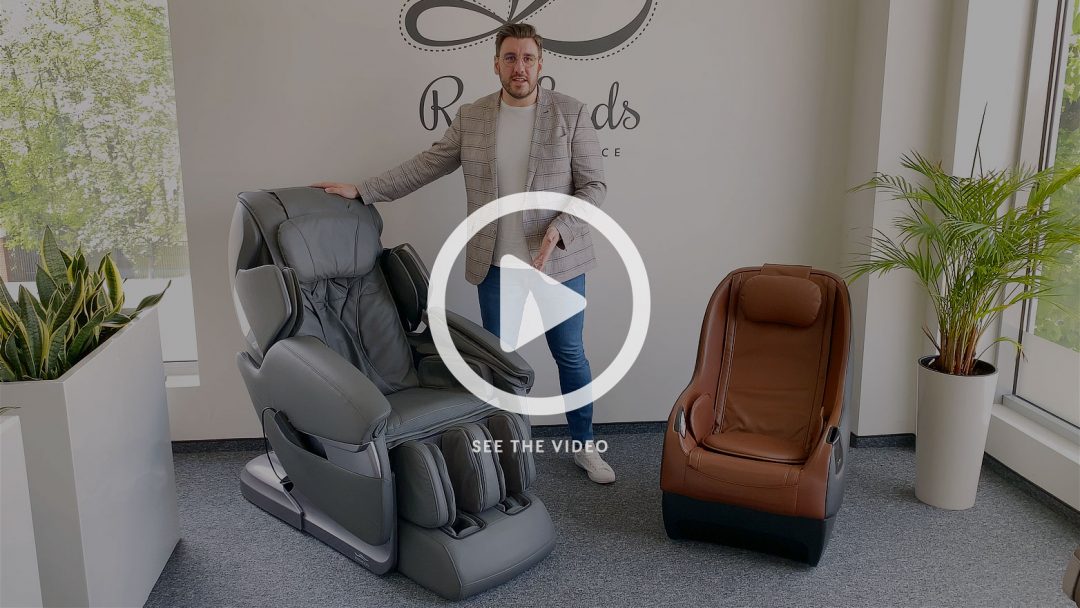 Related articles:
If you're thinking of a massage chair or if you're wondering if a model is right for you, feel free to contact us. And if you haven't had a chance to see the rest of the episodes of our vlog, please check out the VLOG category.
Transcript:
– Paweł, everyone knows that people differ, they're of different height, of different weight… How do you choose a massage chair that fits?
– You have to adjust the massage chair to your needs. Here we have the largest chair in our product range – Massaggio Stravagante and here's the smallest – Massaggio Piccolo. I'll demonstrate the differences related to people's height. Those between 155 and 195 cm in height can use the Massaggio Stravagante massage chairs and will take full advantage of their functionality. There is no problem with this lower limit and any massage chair can massage any person who's 155 cm tall. However, when it comes to the upper limit, there are some variations and differences. For the more compact, smaller models this upper limit is around 180-185 cm. People of this height can take full advantage of all the functions. I am 195 cm tall and I can sit in this chair and enjoy a massage, but it won't reach my neck, so it will massage roughly from the shoulder line, along my spine to the buttocks. It's quite a different situation, of course, with chairs such as Stravagante, a considerably larger chair. Its height range reaches up to 198 cm, so people this tall are able to get a comprehensive massage, naturally, with the chair reaching the shoulders and neck with its massage arms, and providing massage also there. What is important for matching the height is that the chairs scan the line of the spine and adjust to the height; so in large models both shorter and taller people are able to benefit from massage thanks to the scanning technology as well as the footrest extension function. This means that taller people can extend the footrest to straighten their knees a little and also find a comfortable position in such a large massage chair.
– What about weight?
– When it comes to weight, the chairs are factory-tested (at least the large ones) with 140 kg and the smaller ones with 120 kg load, which they can easily handle and operate well at such a load.
– Let's move on to the age. Are there any limitations?
– Well, let's talk children. This is not advisable, it is not necessary, so children up to, let's say, 15 or 14 years old do not need to use massage chairs. Of course they can use them if they want to. When chair is at home, you can turn on some gentle rolling to satisfy their curiosity. But after that age it doesn't really matter. We know that in teenage years, 15 and over there appears sport, work out, some kind of load, where we should or we could use a massage and relax these tensions a bit. At a later age, there is already stress, strain due to the mode of work or sedentary lifestyle and there is also a need for massage, a way to relax the tense muscles. Later, painful conditions can develop and massage is highly recommended then, so there is no limit here. It's more about the lower limit, younger children are not to be allowed in the chairs.