We're very happy to announce that we have a new massage armchair in our offer. One of its kind, produced by Spanish brand Keyton. Armchairs are already tested. Now it's time to show them. It's the first massage armchair with possibilities like this on Polish market!
Personalization of massage chair Keyton H10
We are frequently asked about different colours of armchairs. We have an answer: massage armchair Keyton H10. We're sure that they will meet expectations of those clients, who are looking for unique pattern-designing. Their biggest advantage is possibility of complete personalization. Free decision about a specific design (and there are 5 of them), selection of natural leather or fabric upholstery, selection of the perfect wood and the color of your dreams. For some people it's a very good occasion to blend in an armchair into interior. Some people have a possibility to create their unique armchair.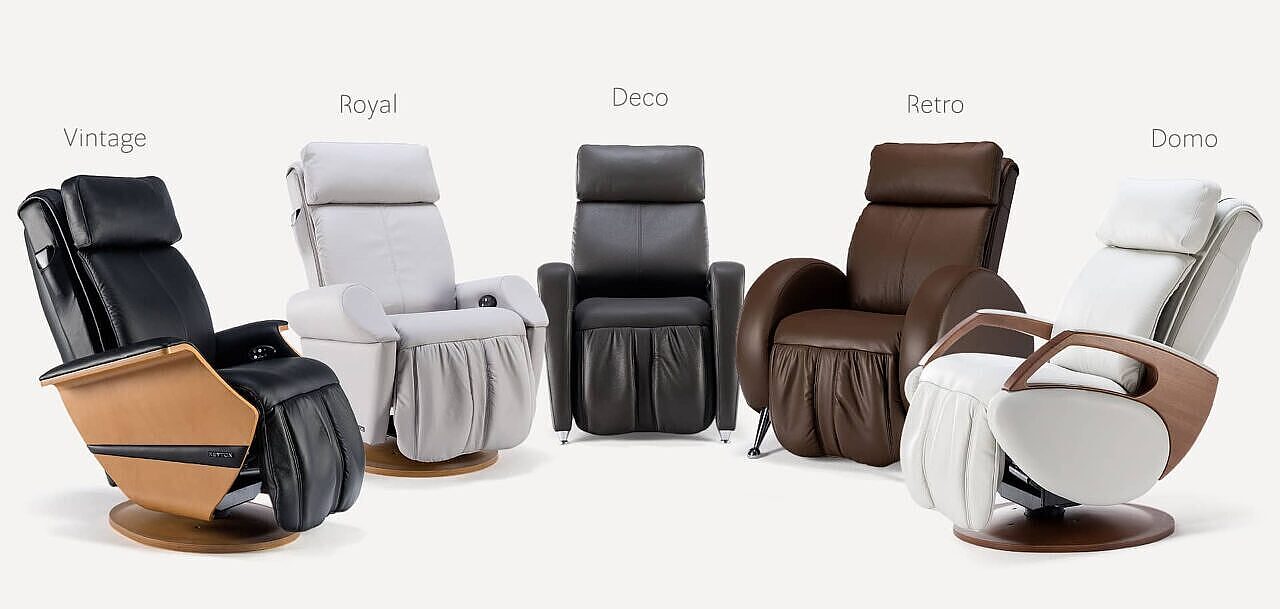 Materials used in massage chair Keyton H10
The Keyton brand can boast of the highest quality of the materials used. The combination of the nobility of leather and the simplicity of natural walnut or oak wood is always the perfect choice, regardless of changing trends. Massage chairs are finished with different types of materials. Heritage is a natural cow leather. Its special feature is its perfectly smooth and uniform texture, which provides the effect of extraordinary softness. The skin is characterized by excellent durability and resistance, thanks to which it will be perfect for massage, and it will retain its beauty for years. Another material used to finish massage chairs is Carabu – fabric upholstery. The highest quality fabric looks beautiful, and it can be cleaned with only water.
Special massage in massage chair Keyton H10
Massage armchairs Keyton H10 provide special massage system, which is a combination of precision and adjusted intensity. Innovative and unique technologies, like SensorScan Pro, which detects muscle tensions or patented 3D Touch Control, which relaxes your legs, makes massage in Keyton H10 different from the massage in other armchairs. It's a great way to relax between business meetings, after hard workout or before sleep.
European massage chair brand
Original design, exclusiveness and the newest technological solutions are their identification marks. Brand Keyton was estimated in 1989 in Spanish province Alicante. At the beginning it was a small family business, nowadays it's known worldwide massage armchairs manufacturer. Beautiful look of those armchairs is an effect of collaboration with designers from Giugiaro Design. In Giugiaro Design works Giorgetto Giugiaro – the best car designer of 20th century.
How to order massage chair Keyton H10
Massage armchairs Keyton H10 are unique, because they are created by the Client, which means that they are produced on individual order. We can get you your dream massage chair in just about 6 weeks (calculated from the date the advance payment is credited to our account). If you would like to test Keyton massage armchairs, there is a possibility to test them in our salon in Olsztyn. We have each of five models here! If you live very far from Olsztyn, we can come to you with a presentation of chosen model.
More information about new armchairs is on subpage: Keyton H10. If you would like to create your dream massage armchair Keyton H10, contact us, before ordering.