In our massage chair vlog we address another important topic, which we encounter quite often on a daily basis. Out of information that appears about massage chairs, some are myths that have nothing to do with reality. Paweł discusses untrue beliefs and convinces us that all stereotypes disappear when we get to know the massage chairs better, especially when we try them out :-)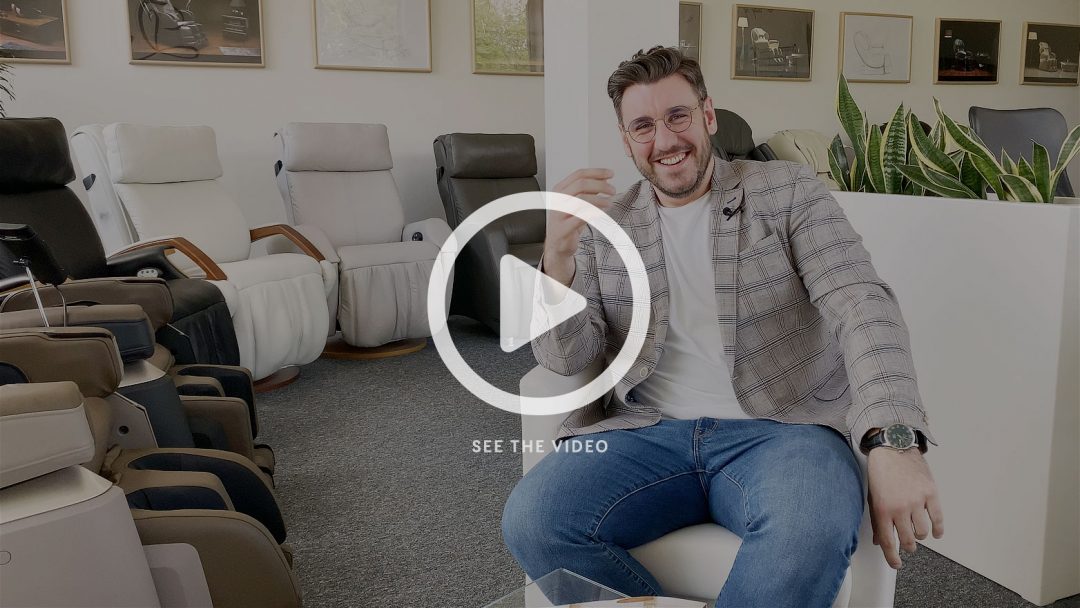 Related articles:
If you still have doubts or questions about the massage chairs, feel free to contact us. And if you haven't seen the previous vlog episodes about massage chairs yet, please check out the VLOG category.
Transcript:
– Paweł, let's play the role of mythbusters, because there are some myths about massage chairs, aren't there?
– That' s true, quite a lot, but it's probably like with any other product on the market.
– I have heard that there are three such basic myths about massage chairs.
– Yes.
– The first one is that massage chairs are for older people.
– Yes, there is actually a myth that a massage chair is useful for the elderly, that I still have time, I can wait, maybe when I get older I'll buy a chair for myself. That' s because problems, tension, muscle pains, health issues are more common at an older age and it's followed by a greater need to buy a chair. Perhaps it's partly because of this myth that many sellers have offered and sold their chairs to places such as health resorts, where the elderly spend their time and such a service can be somehow associated with these places. But let's look at it from another perspective – what kind of needs we have, how we live today, what kind of posture we have at work – seated or standing, how much time we spend behind the wheel, how we take care of our spine muscles, what kind of tensions appear here and now. It's not like we're going to need it only at an older age, but we should be taking care of the tensions and relax right now. And in fact, who, regardless of age, doesn't need to unwind, who doesn't need to take care of their well-being? This may be even more intense in later years, but it is worth thinking about it now, when we can prevent future problems. In combination with sport, healthy diet, this and taking care of your muscles through massage on a massage chair or manually, is more than advisable, so it is definitely not only for the elderly
– The second myth is that the massage chair will shake us up like the proverbial sack of potatoes.
– It comes from simple ignorance. There is also a video on the Internet where a chair shakes terribly, but the director's role here is greater than the actual correlation with reality. Massage chairs are equipment that imitates the hands of a massage therapist, they have a system of airbags, appropriate reclining systems, heating, foot massage, various technologies that contribute to a really cool, pleasant, professional, but also relaxing massage and it's not just about vibrations. This myth can really be disproved when you try and use the equipment for yourself, then the myth disappears and the perception changes completely. I often see it at trade fairs or during visits to the showroom, where customers say that they had absolutely no idea that it can actually work that way.
– And the third myth is that without a budget sufficient for half a car, there's no point in showing up.
– Massage chairs, similarly to other products, have a price range. There are chairs from 3,000 up to 33,000 PLN in our offer, and I've once mentioned chairs for 150,000 PLN, so it seems to me that this myth is mainly motivated by people who have heard about prices of 30k, 70k or even 150,000 PLN. These prices are indeed very high, if we think that we have to pay such money for a chair. But let's note that it's a sophisticated technology, a powerful piece of equipment that can actually massage our body. It is often finished in natural leather, its design and production also cost money, therefore its price is different. But let's not forget about the chairs that start from 3 thousand. With a budget of 3, 5, 6 thousand we're able to get really good massage chairs, and in the instalment system it is even more beneficial for the customer. I believe that the myth exists, it's there, but it stems from this upper price range. As in cars, for example, it is difficult to compare the price of a Bentley to an Opel. This is where such a myth could also circulate, that car prices are extremely high. They are in case of the most advanced ones, the top shelf cars – and the same goes for the chairs.