Table of Contents:
The core purpose of massage chairs is to massage the back, and every model offers this basic feature. However, massage delivered with airbags and the highly regarded leg massage are also among its most prominent features. If your work requires you to stand or if you wear stiletto heels all day and all you dream about in the evening is a nice massage for your tired legs, read this article to find out how massage chairs can massage your legs and how varied the massage can be.
Massage chairs and various types of leg massage
The vast majority of massage chairs come with a leg massage functionality. Depending on the model, it can be more or less sophisticated. The simplest leg massage, which focuses primarily on a relaxing massage of the calves is available in Massaggio Ricco, Massaggio Bello 2 and Massaggio Eccellente 2 chairs. Compressing the calves with airbags causes the muscles to contract and stretch and also stimulates blood circulation. By doing so, you will take the tension off your legs and they will become light and relaxed.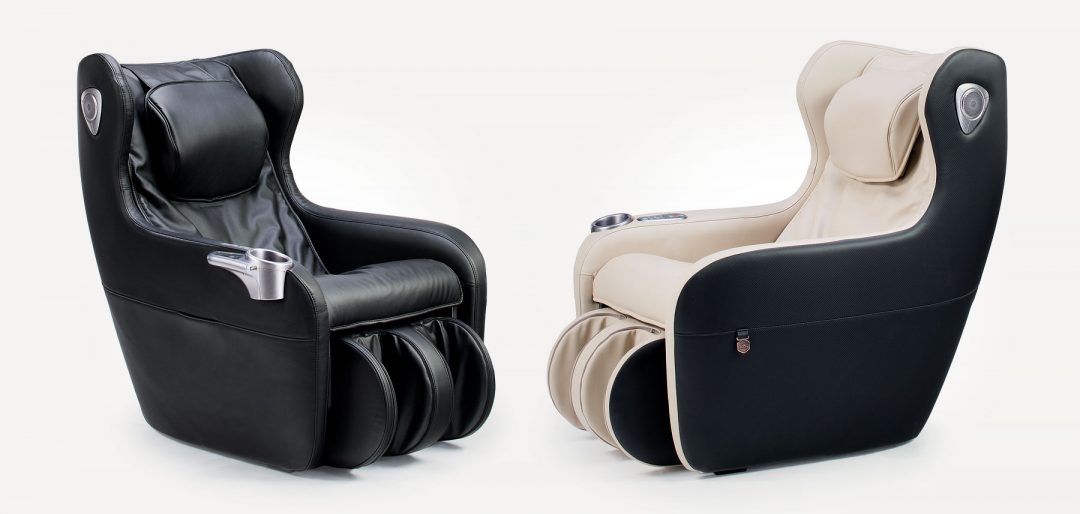 Other models of massage chairs are already equipped with a foot massager. Thus, in Massaggio Conveniente, airbags gently press the feet on the sides, while the acupressure pad located under the sole applies pressure to the appropriate areas on the foot. This model also has an additional airbag under the toes, which massages the feet from underneath.
Leg massagers in the most advanced massage chairs
The leg massagers in the next tier, higher models are much more elaborate. Not only does the Massaggio Eccellente 2 Pro perform foot massage with airbags, but also with massaging rollers. The sensation that will accompany a session of such a massage can be described as a massage performed alternately with two thumbs that massage the underside of the foot. Can it get any better, one might think.
Massaggio Esclusivo 2 offers an even more sophisticated massage of the entire leg. This unique, built-in foot massager is equipped with 3 pairs of massaging rollers, which relieve accumulated tension thanks to the additional airbags. If your day has been really hard – you can opt for a more intensive massage, as there are 3 levels of roller speed regulation at your disposal. This model is also the first to feature an innovative calf kneading massage. It is performed using airbags that move in a specially programmed manner, which is even more effective in stimulating circulation and eliminating tension in the calves.
The top model from the Massaggio brand, the Stravagante 2, also boasts an incredible leg massage. The airbag massage is supported by 2 pairs of massaging rollers of more elaborate design than in the previous model. Additionally, its range also extends to the Achilles tendons and heels, resulting in greater relaxation. The heating, which is applied in the calf area, increases the comfort of massage and makes it easier to de-stress the most aching areas. Further support is provided by the automatically extending footrest and a sensor that detects the position of the legs, allowing the massage to be perfectly adjusted to individual preferences.
Another noteworthy feature is the leg massager in the world's most technologically advanced massage chair – Fujiiryoki JP2000, which reflects the know-how and precision of the Japanese manufacturer (the inventor of massage chairs). The long awaited roller foot massage has been introduced in this model. Feet are massaged with great sensitivity and exceptional precision by rollers of a unique, specially designed shape. On top of that, only in this chair applies heating to the feet, giving a feeling of ultimate comfort. Combined with the airbags, this will pleasantly massage your thighs, calves and feet, and thoroughly remove any accumulated tension.
Certain massage chair models currently available on the market have foot massagers coupled with calf massagers, which leads to some discomfort for people taller than 175 cm. When the chair is reclined, the knees stick upwards. The Rest Lords chairs are different in this respect. All of the chairs we offer have extendable footrests that guarantee the most comfortable position. Thanks to such extension, you can easily adjust the position of the massagers to your height.
Leg massager – add-on for massage chairs
For those who only want to have their legs massaged, but don't own a massage chair yet or their chair doesn't have this functionality – we recommend a separate leg massager. This is certainly a more cost-effective solution, which, with the help of rollers, airbags and heating, is also able to pleasantly massage your legs, and legs only ;-) The rest will be taken care of by the massage chair.
It sometimes happens that we have to stand all day long. Conversations with clients, chair demonstrations, consultations – we always enjoy a leg massage after a busy day. Relaxation, a soothing feeling of unwinding – that's what we need at such times ;-) Probably you also experience situations in which such a relaxing massage would come in handy. So if you are thinking of getting a chair with a leg massage function, take a look at our offer or contact us.