We continue our series focused on comparing different massage chairs. In the next episode of our vlog, we look closer at the only massage chair of European origin, fully personalized and we compared it to other massage chairs. In this episode Paweł demonstrates what makes Keyton stand out among available massage chairs, discusses its functions and personalization potential as well as hints at what is worth paying attention to.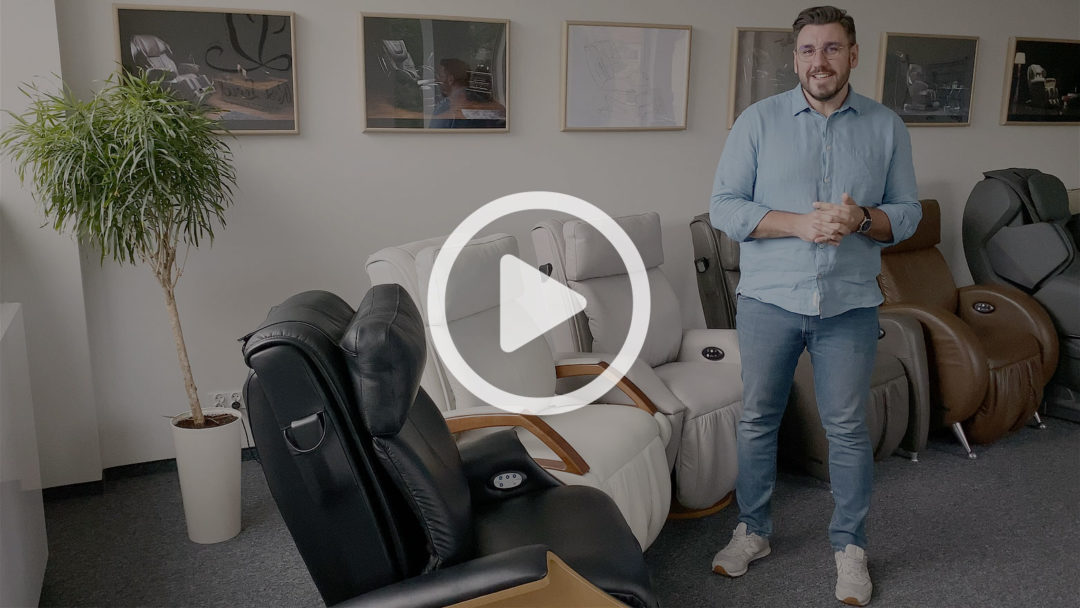 Related articles:

All episodes of our vlog about massage chairs can be found in the VLOG category. If you have any questions after watching it or you are thinking about buying a massage chair, feel free to contact us.
Transcription:

– Paweł, you've already discussed the differences in the Massaggio chairs, but I can see the whole range of Keytons here.
– Keyton is a separate brand. You see the whole range, yet you must know that the massage system present in all these chairs, and there are 5 of them, is the same. That's the massage system called H10, developed by the Spanish brand – Keyton, and in fact each of these chairs share the same system. It's quite advanced, featuring scanning of the spine line. It detects 128 points on your back and adjusts the massage following the result of such scanning. There are several standard massage techniques, several automatic programs, so it's a pretty cool massage chair, but it's a really relax-oriented version. We won't get an extremely strong massage here, just a typically nice, pleasant, relaxing one. When it comes to massage, that's something else, something completely different from the chairs we've discussed so far, namely the whole Massaggio brand. But what's the main difference between these chairs and the rest of the market? It's the fact that these are designer chairs that are highly personalized. You have 5 different designs here – we have Vintage, Domo, Royal, Deco and Retro. This is the first level of personalization – you have the option to choose which design you think is the most attractive, which you like best and then we can go further with customization. You can choose from 3 types of upholstery, starting with traditional fabric, Carabu, followed by natural leather available in two classes. There is a special name for one – semi-aniline faced leather and yes, it's found in these massage chairs, we can easily manufacture upholstery in selected quality of leather.
Moreover, you also choose the colour of the upholstery and we offer the entire palette. There are about 60 colours available as part of the basic colour range, so you can easily match the colour of your room, be it at home or in the office. That' s the next level of personalization. And in fact this is the standard level of personalization we normally provide. However, you have to remember that Keyton is a Spanish manufacturer of massage chairs and the it's only producer in Europe. If you feel like trying something different, more advanced or have some individual preferences for a massage chair, we can price it individually and tailor it to your specific needs. For instance, it's possible to install a lamp so you could read in the evening, we can include a USB port, we can make the seat wider if it is too narrow, we can actually add different things to these chairs.
– And I've heard that they are 2-in-1. What's this about?
– This is yet another difference between Keytons and all the other chairs on the market. Keytons have a 2-in-1 functionality, which means the chair serves as both the leisure and the massage chair. Naturally, all the chairs can be used to just sit and relax. However, the Keytons are the most comfortable. Their seat is ultra-soft, as is the backrest. We can recline the chair a bit and simply sit, unwind, watch TV or read a book. There is no need to turn on the massage function. It is extremely cosy. However, once you take off the relaxation pillow, tilt the chair back, then you get access to the massage chair equipped with a whole range of automatic programs and all the technology hidden inside. That way you get closer to the massage therapy, you sit down in the chair and start it, move on to the lying position and then enjoy a proper massage. And that's the other function, both massaging and relaxing. These soft cushions along with the soft seat make it most comfortable for us to use the chair even for simply sitting down, so to speak. These are the main differences in Keyton – in-depth personalisation, focus on design and top quality workmanship, because these are the only chairs available in natural leather and additionally we get the 2-in-1 function, i.e. relaxation and massage at the same time.
– So, let me understand it correctly, if I wanted to order a massage chair with leopard's spots finish, Keyton could do it for me, right?
– It's possible, we'll write an email right away, see what the factory in Spain says. I believe it's possible. We've heard about cow pelt finish, with distinctive patches… It has been done somewhere :-)