No special preparations are necessary to enjoy massage in a massage chair, but there's always room for improvement to make it even more enjoyable, so that the massage itself fulfills its purpose and relaxes more effectively. In this episode Paweł tells you what to pay attention to and what aspects are important for the massage to be even more comfortable and how to take full advantage of the time spent in the massage chair.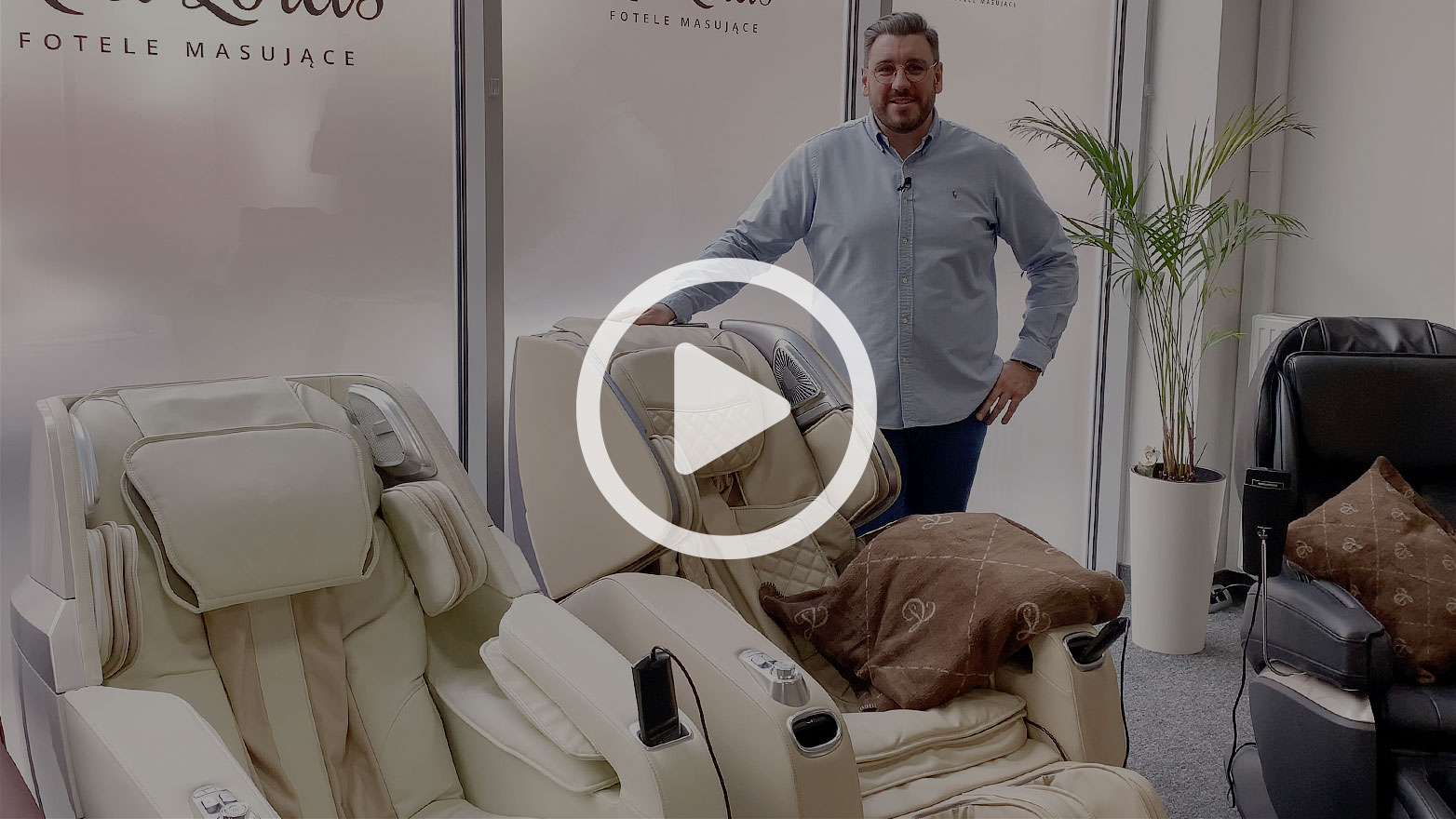 Related Articles:
If you are interested in the topic of massage chairs, you'll find all episodes of our vlog in the VLOG tab. And if there are any questions after watching, feel free to contact us.
Transcription
– Paweł, massage tends to be quite pleasant in itself, but can it get any better?
– Listen, you can always do better and it's not only with massage chairs… driving a car, taking a bath can be made more enjoyable and so can a massage session in a chair. I'm not talking about buying additional features or even better chairs, but creating such an atmosphere and arranging the massage in such a way that it brings even more joy.
We need to break this down into several stages. The first is the setting. You need to keep the room quiet, and preferably turn off the TV, although we are often asked "Can you watch TV during the massage?". Of course you can, as this equipment is there for us, not the other way round. However, if we want to achieve the effect of actual relaxation, rest, it's better to switch off the TV, cell phone, and just listen to some relaxing music – pleasant, soothing sounds, so that we can unwind during the massage, free from any distractions. The setting is very important. And these 15-20 minutes that we have available, will be spent efficiently then.

The second thing is our apparel. We should make sure that we're dressed comfortably. Certainly not leather belts, they won't do. Some sweatpants, t-shirt, something casual, comfy, which will make us feel at ease in this massage chair and all the parts that will be performing the massage, won't hit the elements of our clothing, such as a belt, a watch, and shoes need to be avoided in the leg massager, so we're going in there in socks only. There's also the question of food, of course. As with everything, it's best not to eat too much before the massage. It should be pointed out that it'll be much more comfortable for us then.
There are also items such as a blanket, as well as heating, because here we should note that our body behaves like during sleep when it's getting massaged in a massage chair, so it can get a little bit cooler, especially upper parts, which are being exposed. So it's good to cover yourself with a blanket during massage, just as you would during a nap. We also have blankets available that are specially tailored to cover more or less the entire width of the chair, but they're not too wide so they don't get caught in the leg massager or here, somewhere in the side parts.
We can cover ourselves with a blanket and that too will definitely make the massage more comfortable and enjoyable. It can either be ours or it can be your own. What matters is that it simply fits here, more or less, within the frame and widths that the chair provides. Our sets also include cushions that you can put under your head or, if the massage is too intensive, under your back. We offer cushions in two thicknesses in our sets and you can use them as well. You need to find your ideal position, whether you prefer lying down or sitting up, and find your own massage comfort based on the functions of the chair.
Remember: setting, peace and quiet, clothing, food, background music, of course you can think about color therapy, scent, but these are all add-ons. In fact, if we put on some nice music, close our eyes, cover ourselves with a blanket and calm down for 15-20 minutes, we'll experience a power nap… that's it. And if we fall asleep, it'll prove that we've achieved the ultimate comfort.