In order for the massage in the chair to work perfectly and provide a relaxing experience, you should know how often you can use it. Massage in the massage chair is associated with a pleasant but rather intense pressure on the muscles. In this episode Paweł explains how to dose massage in the massage chair so that it relaxes even better. And finally, he also reveals what time of day is best for a massage session ;-).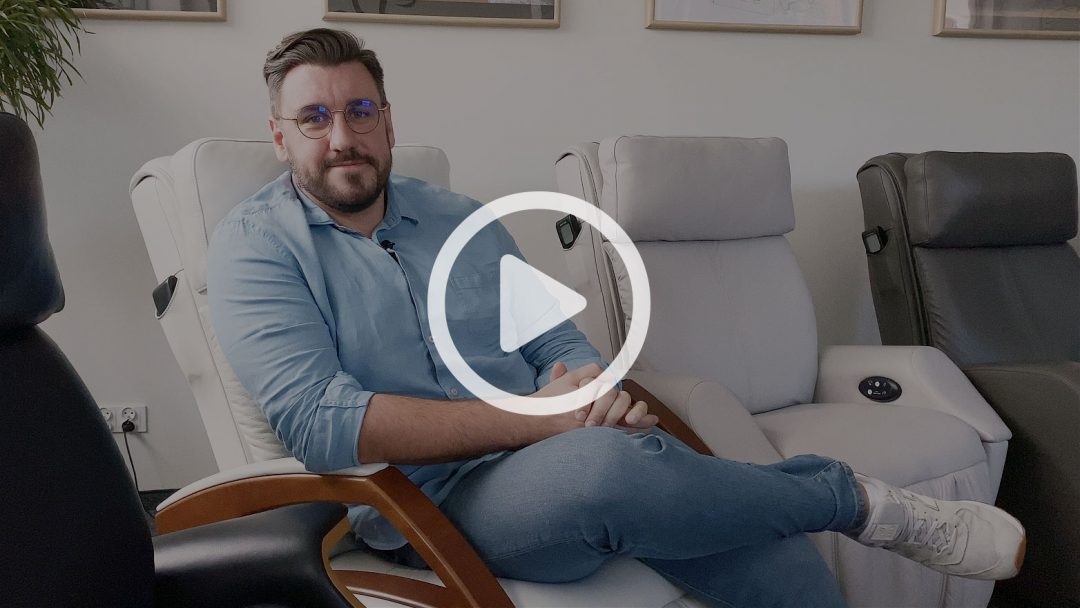 Related articles:

Other episodes of our vlog about massage chairs can be found under VLOG category. And if you are thinking about a massage chair and have any questions after watching it, feel free to contact us.
Transcription

– I wonder… how often can you use the massage chair?
– I would split the answer in two. Firstly, the moment right after the purchase – how often can we use the massage chair. And here we recommend caution and common sense, because this is not the kind of massage that will delicately caress your back, so to speak, because it's rather intense. Naturally, we can adjust everything, but it has an intense impact on the muscles, so excessive time of massage in the massage chair can cause muscle sores or even pain. We had a client who called me the next day saying that she needed to return the chair because everything hurt after the massage. And so, one thing led to another and it turned out that the day before she'd used it for 4 hours without any break, the massage had been on non-stop, she'd gone all the way :-) Unfortunately, that's the result. Our body must get used to it, we have to stretch these muscles a little, get them ready for it, gradually ease the tensions on the muscles and only then, when the body is introduced to the massage that way, you can move on to cyclic massages. However, the initial phase – needs to be smooth, careful, slow. I know that it's brand new equipment, it's just arrived, everyone is curious and I can't do anything about some of these sessions lasting 40 minutes or an hour, but we strongly recommend caution and common sense here, let's slowly introduce ourselves to this type of massage so that the body gets used to it.
And about the second part of the answer, there comes the time when we're already accustomed to massage, the body has already fully accepted it, there are no tensions, so here a standard is a maximum of 3 massage sessions, lasting 15-20 minutes. And you can easily enjoy up to 3 such massage sessions. There are chairs such as Fujiiryoki, which offer 30-minute massage sessions, but they are specially pre-programmed. There's a warm-up phase, next a proper massage phase, and then a soothing phase, so the fact that it's programmed properly allows us to enjoy a massage for as long as 30 minutes at a time.
– And when is the best time to enjoy massage?
– You'll know best, your body will actually tell you the best time to get massage. You can do it in the morning after waking up – there are automatic programs that can put you on your feet, they're more vigorous and energetic. There are automatic programs that you can use while working. For a break, the so-called power nap, or regeneration nap, will also work great. You can turn on the chair and massage yourself before bedtime and mellow your body a little bit with a softer massage, prepare for bedtime and remove tension accumulated throughout the day or after training. There are different moments when we should use the chair and you'll know best when to use it. It is not that in the morning it's always the best, and at 1 p.m. you can't enjoy it. It's up to you and your body