In the second part of the series in which we look for the answer to the biggest question that arises when buying a massage chair, i.e. which chair to choose, we take up the topic of massage chair functions. In this episode, Paweł suggests which features in particular are worth paying attention to before choosing a specific model and explains how they correspond to our needs. All the other things that need to be kept in mind when buying a massage chair will be discussed in the next, last part of the series "Which massage chair to choose".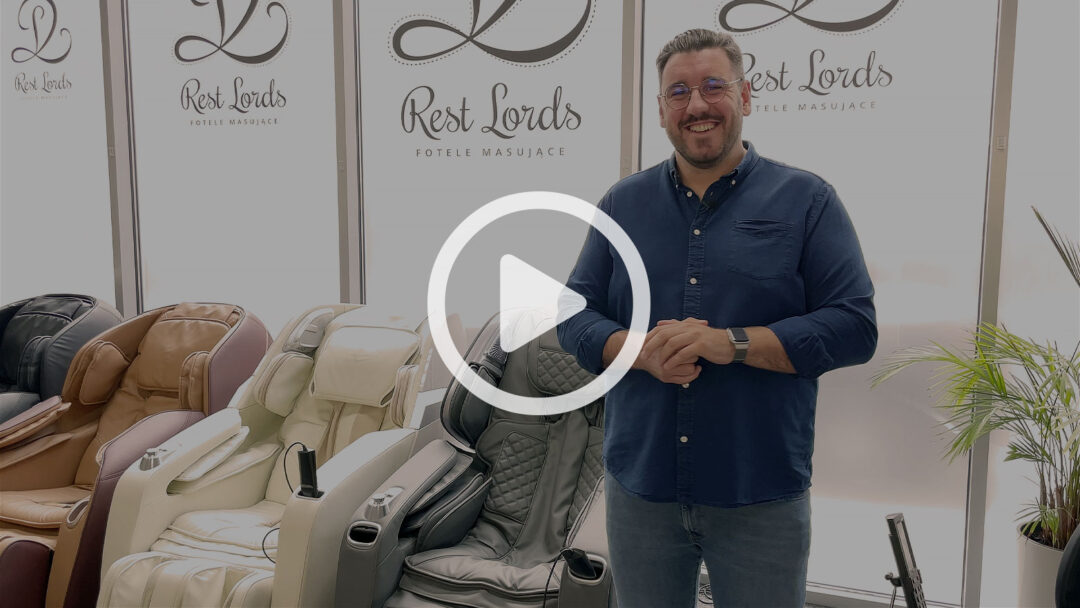 Related links:
If you have any questions after watching, feel free to contact us. And if you haven't seen the other massage chair vlog episodes we've posted, you can find them under the VLOG tab.
Transcript:
– And what should I look for in terms of massage chairs functionality?
– Okay, moving on to massage chairs and the functions they have. And actually: how these functions can address your needs. The most important thing in a massage chair would be the massaging mechanism that works on your back. In models that feature an L-shape, the massaging mechanism goes down as far as the buttocks. It's the core of the massage chair and its level of sophistication, the number of techniques it can perform, influence the experience of the massage and its quality.
And now: automatic programs. The more of them, the more freely you'll be able to enjoy the massage chair. You don't have to think about how to turn it on, which program to choose, where to select it, you just start the automatic program, let's say relaxation or some kind of Ache Relief – for sore muscles, and this function simply starts running. We have 15 minutes of pre-defined massage, so the greater the number of automatic programmes, the easier our lives become. Each massage chair can be controlled manually, so we can always choose what we want in each chair: what technique, simply select it and configure it there. It's a function that's available in every chair and it doesn't really differ from one model to the next, but it's also good to know that we can then enjoy these techniques. "What if I want to have kneading on the neck" or "I want to have rolling on the chest area". So there's that. Pay attention to the massagers – the more elaborate they are, the more fun and relaxing the massage is going to be.
You also have to get into issues of intensity. You have to ask yourself, do I prefer a stronger massage, or a gentle one? There are chairs where the Customer Support will say: "this one is you know… a little stronger, and this one can be lighter".. In general. However, you can adjust the strength of the massage or its speed, we've already discussed that here. And there's a rule that the more you lie down, the more you press your body against the chair and the massage gets more intense. So in chairs that de facto don't offer intensity regulation, we can change the intensity by adjusting the position of the backrest. You also have to answer the question of how strong a massage you need. Should it be something softer or a really strong massage?
So we have the core: a massaging mechanism with automatic programmes, manual programmes, with adjustable intensity. Also important are scanning techniques. Every massage chair should have a scanning system that, at least in its simplest form, finds where the neck is, where the back ends, where it can perform the massage. That is, not to massage our heads with the massager. It has to know at which point to end the upward movement of the massager, when to go downward. The higher model will recognise the loins, the chest section. In the lumbar area it'll go deeper, in the chest area it'll go a little shallower, it'll be able to recognise that. And the most advanced chairs, where there is artificial intelligence, there the chair is able to react in real time to stiffness and muscle tension. So when it senses that a muscle is more resistant, it applies stronger techniques or alternatively, more relaxing techniques there. And this also happens based on the scan, so you should pay attention to how accurate it is, it's worth asking about it. Scanning also allows us to adjust massage to your height, as there are tall people and short people. The best results are achieved by people in massage chairs of up to 1.8 m in height, who already have a range of chairs available, while taller people have to navigate towards these larger chairs to get proper massage. And scanning also allows the chair to sense the height of the person who's just being massaged.
We should also pay attention to airbags. This yet another mechanism, but if we need to, because our calves or arms are always tense, our blood doesn't flow well, or it's caused by working in front of a computer, the massaging airbags work wonders. This means that they also provide muscle contraction and relaxation, and it's worth noting whether the chair has airbags in the areas that are of interest to us, such as calves or forearms, and how we can work with them, because it really translates to a very nice massage effect.
There are features such as foot rollers, so if you like foot massage, you have more of a standing job, women walk more often in stilettos, then indeed foot massage rollers will also come in handy here. So you could actually look for a chair which has massage rollers.
And there's a whole range of additional functionalities, such as heating, stretching programmes, ionised air flow, built-in music players. These are all extras designed to make the massage more pleasant and comfortable for us. Of course, some are more important, others less so, and with some we could do without, but there's also a question along the lines of: "do you need a radio in your car?" It's nice to listen to something, it's nice to feel warmth from the backrest as we massage ourselves. Whether it's needed or not is a question that everyone has to answer individually. The higher and more advanced (and therefore more expensive) the model, the more functions it'll have. But these are add-ons.
Things that need to be taken into consideration include: massager, number of automatic programmes, manual techniques, the way it scans and airbag systems. These are key elements. And finally, I'll mention the way it reclines, which we've also already covered. There are chairs which recline to a flat, reclined, horizontal position, and there are chairs which recline to the Zero Gravity position. We then experience the massage a little differently, the tension on the body is distributed differently in the chair. So it's also worth giving some thought. Some people don't like the reclined position in a rocking chair, although it's more common in massage chairs. But they choose chairs with a flat, horizontal position because they find the massage in them most comfortable. These are also individual issues to which attention could be drawn.
And in fact, I've made a quick, real quick, summary of all the things you can look out for in terms of chair features and how they might translate to your needs. What questions to ask yourself when deciding, 'whether to choose this feature or not', 'whether I need this or not', so here we could break it down like that. And as a matter of fact, in every single one of our meetings before, we covered each of these features in detail.
(In the next episode:)
– The market is quite broad, there are definitely some nuances I should still take note of.
– Well that's another story, come on in. Maybe we'll talk further about it….