After you've watched, read articles published online, and sometimes following tests of various massage chair models, there's always one crucial question at the end, and for many probably one of the most difficult ones – which chair to choose. In this episode of the vlog, or rather in its first part, Paweł suggests what to consider and what to look for when making a conscious choice of the perfect massage chair. And since there are a lot of things to remember, they'll be discussed in the next episode of our vlog about massage chairs.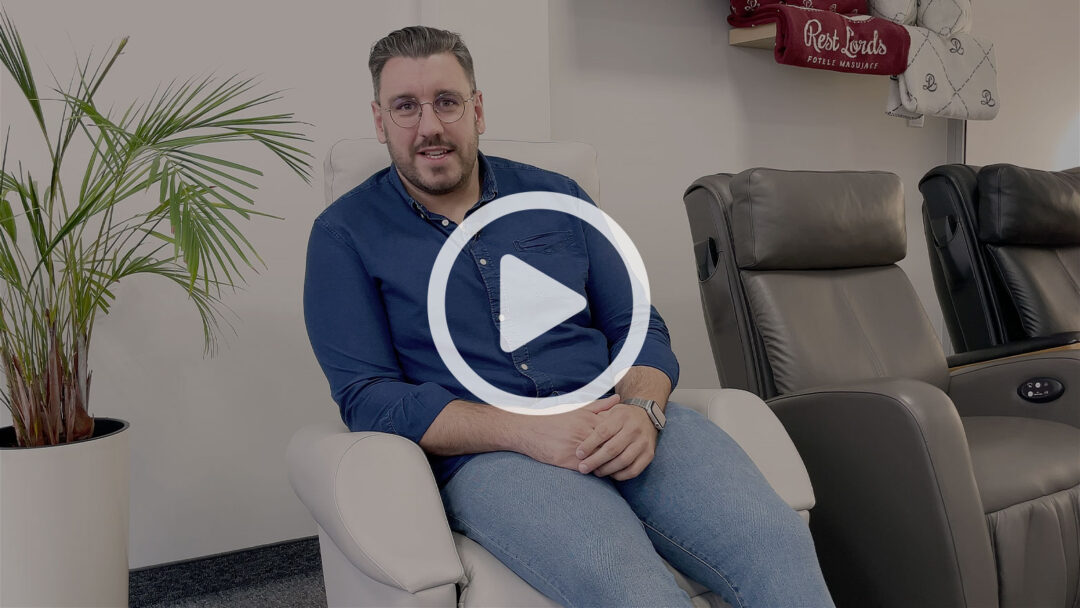 Related links:
You can find all of our massage chair vlog episodes under the VLOG tab. And if you have any questions after watching, feel free to contact us.
Transcription:
– Paweł, I already know a lot, but there's still one more question: which chair should I choose?
– That's the key, tough to answer question. And even though we've already had so many meetings, in the end this question is always left to be addressed. But in fact, it's so complex that there are more questions to be asked and answers to be given. Let's start perhaps with your needs and capability, with what to pay attention to at first, one step at a time.
You need to answer the question, "who's going to use this?". Is it just for you? For the family? For the grandparents? For the parents? For the kid? It's a well-known fact that you have to choose a chair according to the preferences of the person you're buying it for. The larger the group interested in massage, the more advanced chairs need to be bought, as they're able to cover different needs of taller and shorter people, as well as those who prefer either a stronger or a gentler massage. The more people who use it, the more versatile the chair has to be, and therefore more advanced. Or… several chairs will have to be chosen ;-) However, it's clear that one is the key here. You have to choose the best one. So that's the first question and then we decide further.
The second one: "What do you need it for? What do you expect from the chair?". We've mentioned that there are therapeutic massages, sports massages (expert therapists enter here), but if you want a relaxing massage, we can provide it in a massage chair. Strength of the massage – what do you expect? Is it to be a more intensive or a softer massage? These are also questions to start with, because chairs can be divided into more and less intensive ones. These are really the key issues.
Next you need to look at height: yours and that of the people who will be using it. There are compact chairs which, let's say, can massage people up to 1.80 – 1.85 metre tall. There are more sophisticated chairs that can easily handle 1.95 m. I dare say they can even handle two metres. We've seen such cases. So the height will also determine which chair to look for.
There's also the weight. There are a lot of questions about it. Generally, massage chairs are factory tested for 150 kilos and they easily manage it. It's obvious that the heavier the load, the more intensively the components will operate. However, this also needs to be adjusted here. Heavier people have to pay attention to how they use the chair, and they have to put their hands in their armrests properly to work out the right amount of freedom. So that's that.
And then of course there's the question, as we've delved into your needs here, maybe you need it for business use? I don't know… In a hotel? For employees? And so on. These are further questions that need to be addressed. Here you would need to look at chairs that are easier to use and keep clean. Maybe even without footrests that do not massage the feet? You can get a massage without taking off your shoes. In such places this is most welcome. And this is where we should stop for a while.
And last but not least, it's good to think about "and where will it stand?". We've already witnessed various deliveries where our deliverymen had to act like interior designers: "how about here, maybe there?". We were placing it somewhere. Of course there's the living room, the bedroom, there are other rooms that we've already talked about too, and you have to choose some. On the lighter note… let's also remember about electricity ;-) It runs on electricity, so there has to be an outlet somewhere nearby.
These are the first questions: Who's going to use it? What purposes will it be used for? When will it be used? "When" will also determine where I want to put it, because if I want to use it in the morning, before work, it's unlikely to happen in my bedroom, because I'm going to disturb others. So these initial questions need to be asked, about height, about weight, about all that, and that's the basis for making a good decision.
(In the next episode:)
– Ok… and what should I look for in terms of functionality of massage chairs?
– About features… maybe let's move to that chair and I'll show you what to look out for using this example.