Massage chairs are most commonly used at home, because this is where we spend most of our time. However, it is not the only place where the massage can be efficient. In the next episode of our vlog we look at some of the places where massage chairs can successfully function and Paweł lists a few spots where massage chairs have already been successfully installed and discusses solutions from abroad and reveals in which exceptional places you can see our chairs.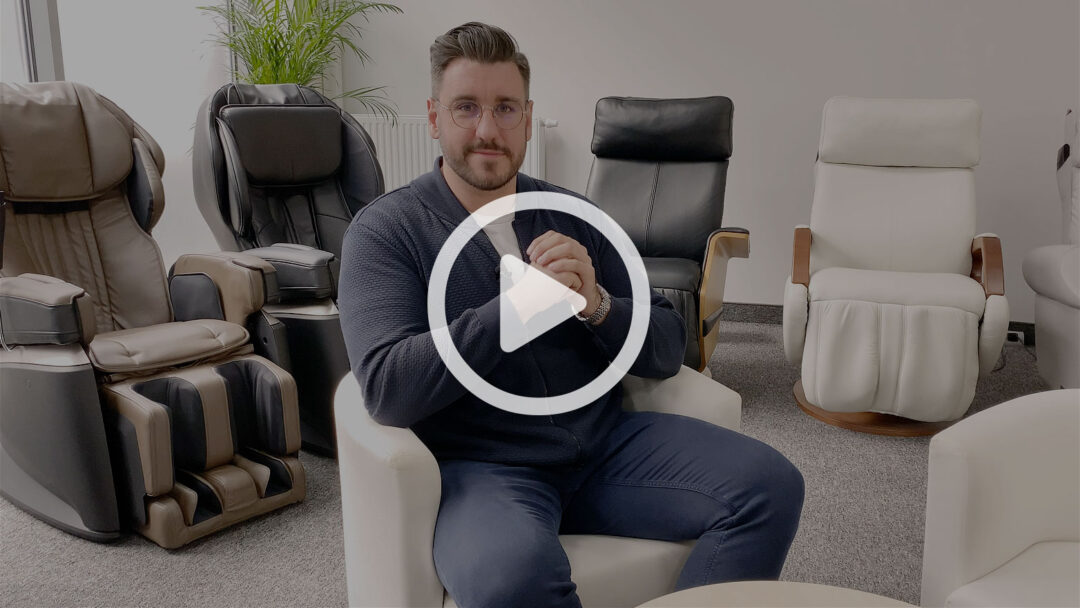 Related articles:

Other episodes of our vlog about massage chairs can be found under the VLOG category. And if you have any questions after watching this video, feel free to contact us.
Transcription

– Paweł, I'm looking at massage chairs and I think to myself that home isn't the only place where you can enjoy massage. For example, I have seen massage chairs in a shopping centre, but there are probably more places where they can be used, aren't there?
– The main principle is that wherever we want to relax, whenever we have time to do so, as often as we would like to, there are just as many options to place the chair. Let's start with the typical waiting rooms, be it at the hairdresser's or beautician's, or right outside a doctor's office, but not the public ones, under the National Health Fund, we've put massage chairs in front of some private doctor's office and the clients who wait there can enjoy a massage. A nice touch if there's, let's say, any delay in appointments. Sometimes it costs extra, and sometimes it's there just to raise the standard, provide additional treatment free of charge, increase the quality of the overall service. Going further, after the hairdressers and the waiting rooms we also have hotels. We deliver a lot of massage chairs to hotels, where they successfully function in the lobby, in apartments or in a small SPA. A small SPA accompanied by a sauna or some other facilities creates a superb, micro SPA lounge without the need for staff to operate it, so the hotels benefit from such places greatly. Moving on – the gyms, maybe it's a bit less popular in Poland, but people in Scandinavia appreciate the fact that after each workout there's time for massage. We often enjoy a sauna after workout, but they use massage after workout and massage chairs are available in many gyms. Next, these shopping centres you've mentioned. Massage chairs also work there, so imagine this husband, tired of shopping, he sometimes sits down and throws in a coin, unwinds during massage. Of course, these are lower class chairs, with fewer functions. But they have to be simple, not prone to malfunctions. As long as the owner takes good care of them, they are well maintained and can look great for a long time. So yes, they do work in shopping centres.
Now, listen, there are other interesting examples. Massage chairs can be used at the airports, we wait for the plane for some time and we can spend this moment to get a massage. What's more, last year we delivered a chair to Okęcie airport, to the VIP room and it works great there. And immediately after our delivery Donald Trump arrived in Poland, he landed there. It is not official, but supposedly he enjoyed massage in our massage chair, so it's awesome. Other places, hear me out, in Canada on cruise ferries for instance, one floor is equipped with massage chairs so that the passengers can relax properly and unwind during the cruise. It' s a perfect spot, there's time and opportunity, why not use a massage chair, also a great thing. Look, some cinemas, for example, can also accommodate our chairs, although not yet in Poland, the first rows of seats are equipped with massage functions. So these chairs have a built-in massage feature because viewers usually avoid these first rows, since it's quite uncomfortable there if this seat is just so stiff and you sit in it, but in the massage chair that can recline you look at the large screen above and enjoy our time, it's fun. We relax, watch a movie, neat. Let me tell you, there are dozens of places where you can use the massage chairs and I've mentioned some 10% of all the possibilities. In fact, wherever we have a moment of spare time, when we want to relax, that's where the massage chair is most welcome. Home – of course, we spend a lot of time there, but all the other places we go to, where we have a moment, the massage chair works great there as well.