You get home after a stressful day at work and all you think about is relaxation. You sit down in your favourite massage chair, the massaging arms start doing their thing, you unwind and you hear… Right, but what can you listen to? What kind of music would you like? What's the best tune to relax to? We've prepared something special to help you choose the best background music. We're extremely pleased to announce that we've just launched a series of broadcasts in partnership with Meloradio. Together with our listeners we'll decide which songs are best to relax to.
Why Meloradio?
First, there was melody… This slogan can be heard in Meloradio and it perfectly reflects what we were guided by when selecting the radio station to help us prepare the relaxing music program. In a unique way, Meloradio combines atmospheric hits from the last five decades with specially selected contemporary tracks. The airtime is thus filled with pleasant, relaxing tunes. Naturally, we could've picked the relaxing tunes ourselves, but we've decided to team up with people who deal with music on a daily basis and know about it. It's also important that we don't look for algorithms that affect brainwaves nor to prove any scientific claims in this whole endeavour. We are going for the natural approach and simply choose the songs that appeal to us and our listeners and that are associated primarily with relaxation.
How does it work?
Every week, on Thursdays, Meloradio will broadcast a program with music ideal for relaxation. Listeners will have the opportunity to select songs from a playlist prepared by Meloradio's artistic director which they find the most relaxing, and then justify why they chose this particular track. There will be wireless speakers to win every week, and the best submission will be awarded a Massaggio Eccellente 2 massage chair, a model that uniquely combines the essential functions of massage with beautiful design. For more detailed information about the contest, have a look at the page 'Musical relaxation with Meloradio'!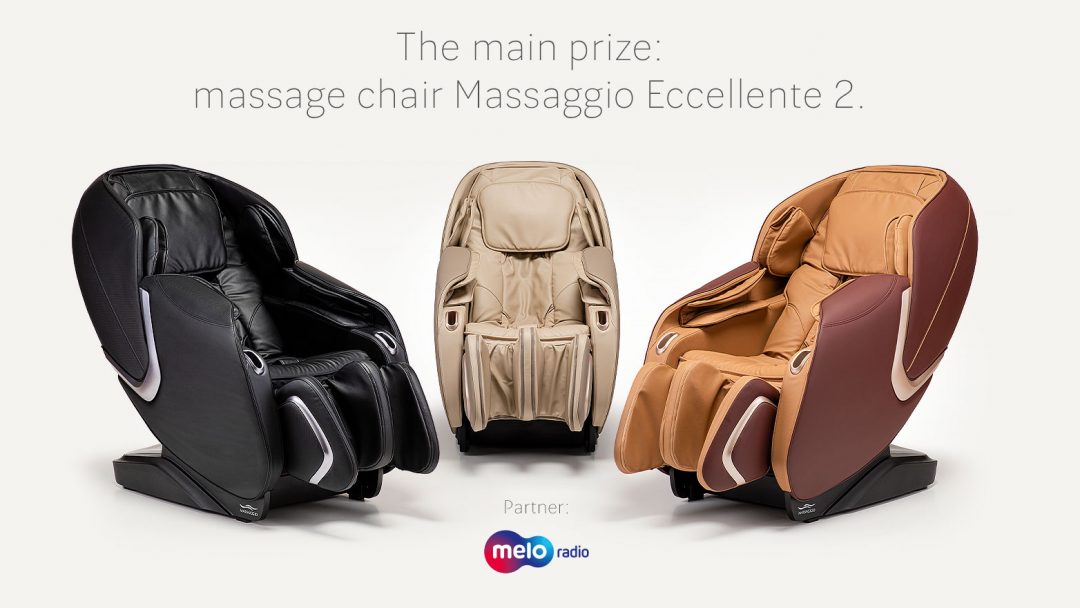 In the meantime, we enjoy the soothing sounds coming from the radio and invite you to do the same. You can find the frequencies where you can listen to Meloradio here. We invite you to listen to Thursday's relaxing broadcasts and to take part in our unique contest. Good luck!