When deciding whether to buy a car, equipment or even book a hotel for a trip, we take multiple factors into consideration. However, the one thing that has a huge impact on the final decision, especially when the purchase requires spending a larger amount of money, are the opinions of other customers. So we read, ask and look into features that have worked for others, because this increases the confidence that we too will be satisfied with the purchase. As a seller we are convinced, and this is also confirmed by years of experience, that it's similar when buying massage chairs. That's why you can find customers' reviews and impressions regarding our massage chairs on each product page.
Massage chair reviews
We wouldn't be around without feedback from our customers. It's feedback, not sales results, that allows us to tell you how things actually are…. – especially after the transaction. Here comes your own experience, use and verification of what our sales girls have "talked you into". Thanks to this we know what we do well and what we do wrong, and you get to know more about chairs from other people like you. Someone clever in the sales department has calculated that 15% of orders come from recommendations, and the majority of reasons for purchase are motivated by the opinions online… That's why we don't "let go" and we actively ask for these reviews. All opinions and reviews of our massage chairs presented on this site are authentic and come from our customers, who have shared their feelings related primarily to massage in the massage chair, but often also to the service or delivery.
Opinions about massage chairs.
It does happen, however, that during the conversation we hear doubts about whether these comments are genuine. After all, there are a lot of them and the vast majority are positive. And what we usually answer in such a situation is related to what we've written above – after the purchase we always send a contact form and a kind request to write a few sentences about the massage chair. It looks more or less like in the opinion by Mr. Maciej:
When asked for feedback, the buyer and user of this chair is put in somewhat uncomfortable position. Whatever is written, you instantly become similar to previous reviewers, individuality of judgment is lost and you generally dissolve in a choir of praise. Such general satisfaction of the buyers, rather uncommon in our reality, is simply due to the perfection of the device. (…) Delivery and service personnel are extremely kind and well-mannered. Thus, I confidently join the choir….. And I recommend it! Maciej Szczawiński

(Massaggio Stravagante, 30.06.2019)
Nevertheless, we have to admit that it has happened, admittedly only a handful of times, that a customer wrote a negative review (after all, nobody's perfect). When such an opinion appears, we always contact the customer, chat, ask what we can improve, what we can do to change such an opinion. This way we're able to help the customer, find the problem and work towards customer satisfaction.
Surprising gifts as reviews
There are situations when customer feedback takes on a tangible form. It is always incredibly nice when the delivery guys bring gifts or when a customer visits us after the delivery with some unexpected gift. We're extremely pleased that customers show their appreciation also in this way. We're very grateful and even more motivated to ensure that the level of service is at the highest level, and the well-being of our customers during the implementation of the order – as good as possible.
One such gift looked like this: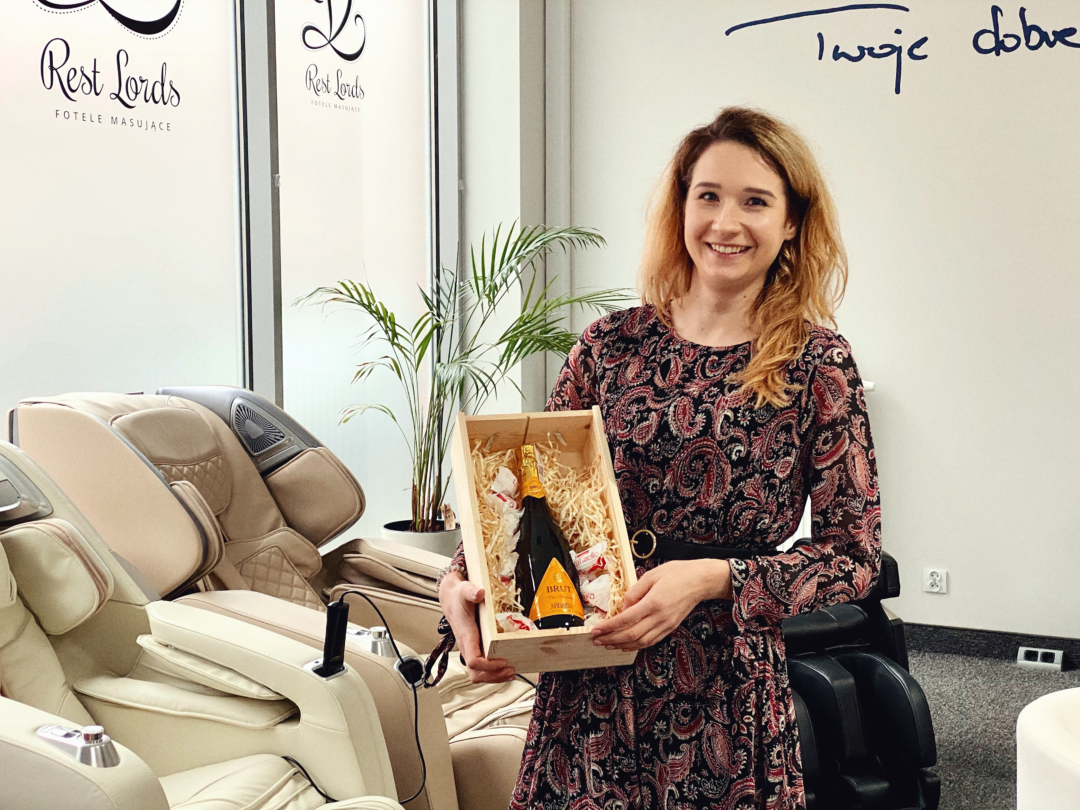 Memorable reviews
After having a conversation with a customer, we always look forward to hearing their feedback. We're curious what they think about massage in the massage chair, the method of delivery they opted for or the overall service. All opinions, even the shortest ones, are extremely important to us. Sometimes, however, there's an entry that is particularly memorable, takes us by surprise, makes us smile and to which we return for an extra dose of motivation. For example the reviews left by Ms. Mariola and Mrs. Hania and Mr. Roman.
I've been a happy owner of MASSAGGIO STRAVAGANTE chair for 3 months now and I must say that I lost 15 kg. The sun, the thermal baths and the chair are the best way to get rid of depression. My daughters are delighted and they use the chair all the time and the money stays in their wallets ;) The chair is very big and even a "seal" as big as me has no problem fitting into it :) (…) Mariola Krzesiak

(Massaggio Stravagante, 17.11.2017)
What else is there to say apart from that it's simply awesome. (…) The problem is the weight and dimensions – we wished to take it on holiday with us but it doesn't fit on the plane. So we decided to change our holiday plans. This chair has changed our priorities. HANIA + ROMAN

(Massaggio Esclusivo, 22.03.2018)
or Mrs. Irena's opinion, which shows that sometimes one massage chair is not enough :)
(…)The chair performs amazingly. There's only one problem – it has just one seat. There's a queue at home, we had to work out a schedule, who, when and for how long ;-) I guess we'll have to think about buying another one… Irena Kęsy

(Massaggio Esclusivo, 04.11.2020)
As you can see, we are happy to read every kind word written about us on our website. You can read all the reviews under specific models. And if the reviews on our site have helped you make a decision and you are thinking about buying a massage chair, feel free to contact us.