A visit to a beauty salon is for many women the most pleasant moment of a month, if not a week. This moment, often somewhere between duties, meetings or preparations for the next day at work, is a great way to get away from stressful appointments, everyday problems or home turmoil. It is also an opportunity to take care of yourself, not only your appearance but also your well-being. However, as it turns out, a simple visit to a beautician can be even more enjoyable. An interesting addition to the visit, as mentioned in the conversation with the owner of the salon and a professional beautician Monika Molęda, could be a massage in a massage chair. You can read about how a massage chair works in a beauty salon in the following article.
Massage chair in the waiting room
By far a massage chair appears most frequently in the waiting room of a beauty salon. Usually magazines are laid out there, and yet the time that the client spends in the waiting room could be even better and, most importantly, more enjoyably used for rest and relaxation. When there is a delay, a massage in a massage chair could be not only an exceptional experience, but also an excellent compensation. The massage will certainly make waiting for the treatment faster and much more pleasant.
Monika, who runs her own beauty salon, also drew our attention to the fact that many of her clients arrive much earlier than their scheduled visit. They often come immediately after work and it happens that the meeting with friends ends sooner than expected . When there is still time available, clients can enjoy a relaxing massage. Some of them have even created a kind of ritual in which the visit to Monica always starts with a massage and then there is time for a cosmetic treatment.
Massage in a massage chair as part of the treatment
Massage chair can also be used during cosmetic treatments. It works perfectly as a finishing touch. In Monica's beauty salon most treatments end with a mask, which takes about 10-20 minutes. And this is when it is time for a gentle massage in a massage chair. The client can rest, calm down and relax under the mask. It will be a perfect complement to the treatment, which may become your trademark and distinguish your offer from those available on the market.
It is worth noting that massage chairs, although they can be a perfect complement to the salon's offer, should not be used for the treatments themselves. It is impossible for a client sitting in a massage chair or enjoying massage there to get a manicure, peeling or lash extension. For such treatments you need a professional armchair, which will ensure they are performed accurately and perfectly.
Massage chair for a beautician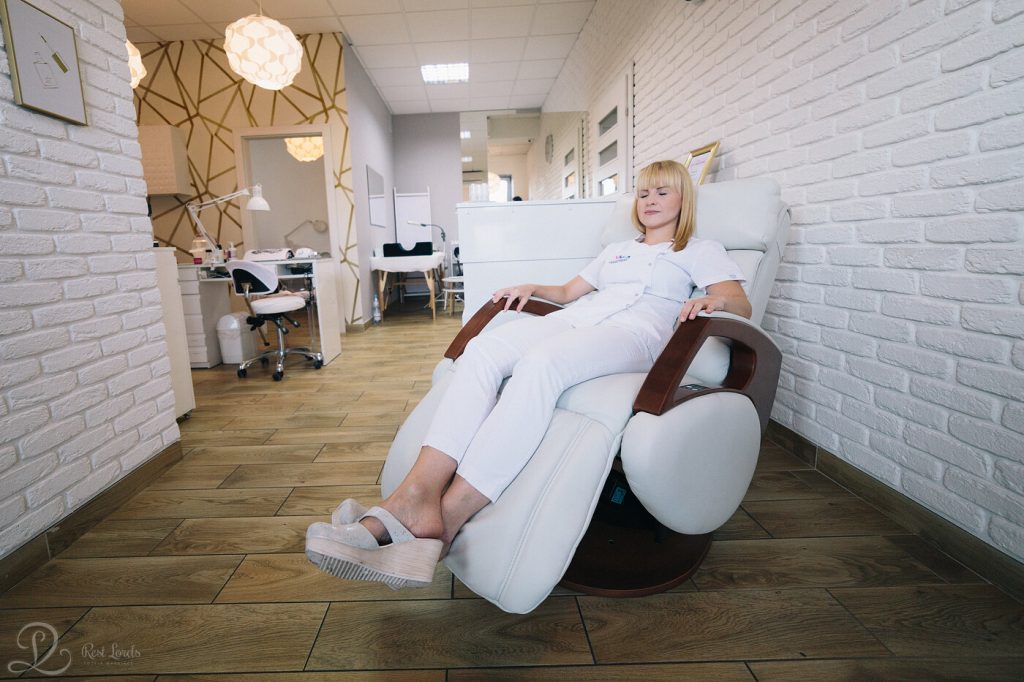 Apart from the obvious benefits of massage for the clients, massage chair can also be used in other ways. After all, a beauty salon is not only its clientele, but also employees who can make use of massage, for example, during breaks at work. The work of beauticians, often involving long hours and a leaning position, can significantly strain the spine. Moreover, as Monika also confirms, beauticians sometimes work standing up while performing certain treatments, which in turn involves a heavy strain on the legs.
Therefore, an additional, even brief pause at work or a massage at the end of the day after the last treatment can relieve tired muscles and help to relax them, eliminate discomfort and pain. And massage of the legs in a massage chair lasting even several minutes will ensure their lightness and remove tension. After such a timeout, an employee returns to duties full of new energy and thus more effective.
Which chair for the beauty salon?
We are convinced that when choosing a massage chair for the salon, a beautician will first pay attention to its appearance :-) And that's more than understandable, because the salon must appear beautiful. What is extremely important is not only the atmosphere inside, but also aesthetic impressions. Personalised Keyton H10 massage chairs are a perfect solution in this case, as they can be easily adjusted to the existing interior by choosing the colour and type of leather or wood. 
And when it comes to massage, any massage chair will actually serve its purpose in beauty salons. A massage chair with a large number of functions will surely be a good choice, one that will enable the most professional massage. A perfect example is Fujiiryoki JP1000, the most advanced among massage chairs. Thanks to a number of technological innovations and refined mechanisms, it is able to provide the most precise and relaxing massage. Not only does Massaggio Esclusivo, look great, but it also stands out massage-wise using the most innovative solutions, such as massage on the longest section in the Zero Gravity position or roller foot massage. 
 
The size of the massage chair is an important issue. Monika drew our attention to the fact that beauty salons are small in the most part and their owners are often afraid that it will be difficult for them to find a place for a massage chair. In such a situation, it is worthwhile to check out the offer of compact massage chairs. Thanks to their smaller designs, they will fit into smaller salons, and more importantly, this does not mean giving up their advanced functions. For example, Massaggio Bello 2 or Massaggio Ricco, although of small size, can boast technologies that are found in larger models. Should you have a larger space, however, it is a good idea to create a VIP waiting room, where customers will be able to enjoy massage in a massage chair in a pleasant and unique atmosphere. 
Hygiene is also an issue of great concern often mentioned by our clients. The beauticians take care of it more than anyone else and this also applies to massage chairs. The upholstery of massage chairs is mostly made of synthetic leather, which does not absorb odours and is extremely easy to keep clean. Several models also have the option of removing fabric that come into contact with the body and washing it. In the salon you can also use special cosmetic pads – it will be even easier to maintain hygiene then.
As you can see, a massage chair can be a fantastic addition to the offer in a beauty salon. Thanks to it, customers associate this place with relaxation and exceptional comfort, which they have not encountered in other such places and can treat it as an incentive when making another appointment. Therefore, if you run your salon and you are thinking about a massage chair or have questions, have a look at our offer or contact us.