Are You hungry for knowledge? Since this article we start entry series related to technical parameters of massage armchairs. Obviously, each armchair has its tab, where everything, even technical specification, is described, but we want to tell You more about them.
Will I feel comfortable in massage armchair?
Will it fit in the place, which I have already considered?
Let's start from Fujiiryoki EC3800 massage armchair dimensions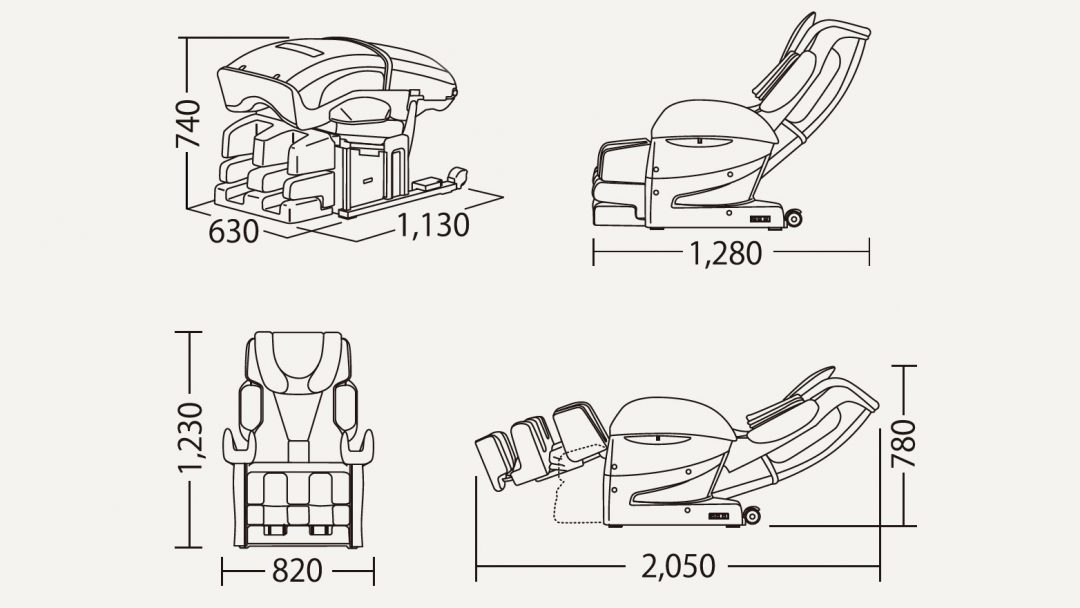 This picture can tell a lot about dimensions of massage armchair.
Also:
seat is 51 cm wide, 50 cm deep and is at the height of 46 cm
forearm massager is 64 cm long and 9 cm wide
foot massager is 22 cm deep, place for legs and width of calf massager is 14 cm
free space required:

behind massage armchair – at least 60 cm
in front of massage armchair – at least 70 cm

regulation of leaning the backrest in terms of 120° – 170°
regulation of leaning the footrests in terms of 0° – 75°
For those, who want technical information, here is a solid portion on another information about massage armchair Fujiiryoki EC3800:
amount of air cushions – 44 pcs.
amount of massage balls – 2 pcs.
amount of air pumps – 1 pc.
pressure in air cushions during massage – circa 36 kpa
speed of massager movement on back – 4,9 cm/s
colour LCD screen with joystick
UPDATE MARCH 2017
Massage armchairs EC2800 and EC3800 have been withdrawn from sale. See latest model of Japanese – massage armchair inventor Fujiiryoki JP1000.