In this 20th episode of our vlog about massage chairs, we address one of the topic that's most often brought up during conversations with customers. When choosing the perfect model, whose price sometimes exceeds our budget, some questions pop up about whether it is possible to finance the purchase in another way. In the latest episode, Paweł suggests solutions that can be used to minimize the one-time financial burden, such as the purchase of a massage chair.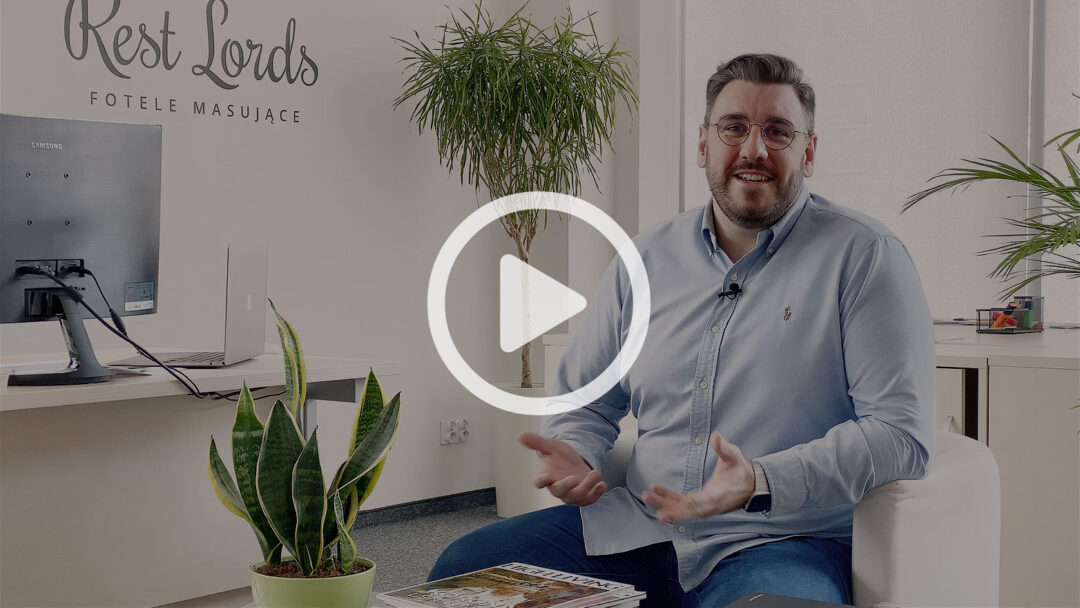 Related articles:
If you're thinking about a massage chair or you're interested in this subject, take a look at the VLOG tab, where you can find all of our filmed episodes. And if you have any questions while watching, feel free to contact us.
Transcript
-Paweł, the massage chairs are absolutely fantastic. Just where to get the money for it?
-Listen… what can I tell you? From your wallet, from your bank account, everyone has to figure out for themselves how they'll be able to secure the money for such a purchase :-). I can only give you a hint how it looks like, how it can be optimized, where to look for solutions when buying massage chairs. And here we have to divide it into several areas.
The first is to buy a chair for your own purposes, for the household, so what we observe in the market is often just a family whip-round. Certain celebration, anniversary let the family members to contribute to the purchase, whether it's a multi-generational home or not. Then you can raise the amount together and finance the purchase of a chair. This is the first example, while essentially we should discuss it, think about installments, which are implemented in a very simple way. Applications are filed online – remotely. It's simple, with no need to provide any documents, such as confirmation of earnings and so on. You can process it nicely and conveniently over the phone or online and then divide it into attractive installments, convenient payments – several payments, from 4 to 36. This allows you to break up the purchase and minimize the one-time financial burden. In turn, the installment can be compared to a monthly pass, for example, to get a massage.
If there is a person with a disability in the family and certain rehabilitation needs, there are also several possibilities. There are subsidies from the National Fund for Rehabilitation, we can approach the foundation we are affiliated with and get funding. We often make such transactions and then these customers are usually aware where they can get help to support rehabilitation or mitigate the effects of disability. Of course, you can also think about a rehabilitation relief, i.e. settle it in the tax. However, you need to verify this with an accountant, with a person who specializes in this field, and to process it on an ongoing basis in accordance with current regulations. Naturally, there are such instruments and we also carry it out in our company. Of course, we give our full support, if we need to provide any documents or support the process developed by foundations or the City Social Welfare Center in any way, we adjust to it and support it.
Then there's the third area, where the business activity comes in, so here, of course, the possibility of optimizing, rationalizing the purchase is the concept of including it in the costs. If we make a purchase for business purposes, for example for a waiting room, where we want to enrich the time our clients spend there, we can put such a chair in. If the chair can complement our main service, such as cosmetics or hairdressing, we can also put the chair and think about including the purchase in the eligible expenses. I used to be a chief accountant, today I speak from experience, but this is not a legal advice. You'll need to verify this each time with your accountant, your factual situation, your standing and the purpose for which the chair is intended, but putting it into expenses and settling the VAT is also a way to settle and reduce the financial burden caused by the purchase of a massage chair.
Companies can also resort to leasing, something that works as installments for individuals. There's company lease. The company is subject to verification, it's a fairly simple process and it's supported by both us and the bank. It can be done remotely, online and then we spread this one-time financial burden over months. We receive a monthly invoice from the lessor and we can put it into expenses. Not only do we not have to pay all at once, but it's accompanied by the beneficial effect of income tax or VAT settlement.
Of course, companies can take advantage of various types of subsidies, which are available also for companies, for employees and for opening businesses. That is also where our chairs turned up as part of the implementation of such projects co-financed by the European Union or other funds.
So, you have to navigate somewhere between these three areas and ideas and find your own way. First, we look into our wallets, then we look for possible ways of spreading the purchase, joining forces with someone else, or looking for financial support. Everyone has to think about this individually.