For some, leg massage is one of the most important elements of an effective massage in a massage chair. In the next episode of our vlog about massage chairs we take a closer look at different types of leg massage. Paweł shows how this massage differs in various models and explains the most important functionalities. He also reveals which feature is worth paying attention to in particular.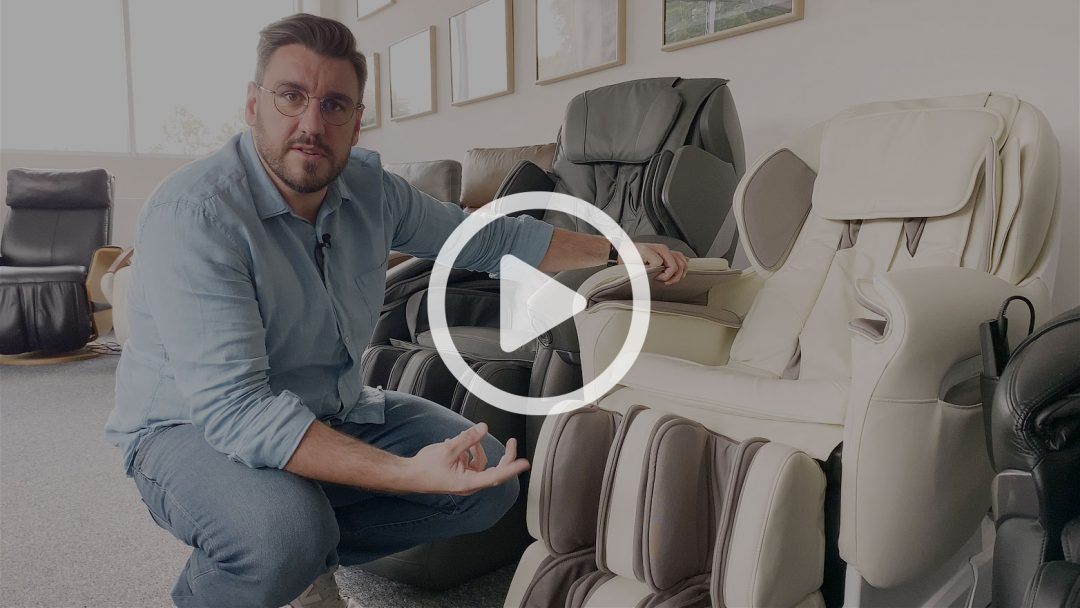 Related articles:

If you are thinking about buying a massage chair and you haven't had the opportunity to see the other episodes of our vlog, you will find them under the VLOG category. And if you have any questions while watching, feel free to contact us.
Transcription

– Paweł, can you tell us a little more about massaging your legs, because I see that massagers do differ.
– To explain the differences, we need to define parts of our leg – there is the thigh, the calf and the foot. It's not a major discovery, but there are respective parts for each of those in our massage chairs. As you can see here, in Massaggio Piccolo we have airbags, right here, to provide contraction of the thigh muscles and to massage them. Moving on, we have the Massaggio Ricco, which has a built-in rotating footrest for our calves and two airbags on the side do the work, contract the muscles. Next, we extend the massage of the legs adding more sections. Here we have a visible piece that massages the feet. And similarly, the airbags ensure muscle contraction in feet and press the foot – in this case, in this chair – against the acupressure insole, which has precise sensors that activate the appropriate receptors on the foot.
As we move on, we have the Esclusivo chair, whose foot massager does not have an acupressure insole, but has a foot massaging rollers. It's already a very relaxing foot massage that lets you unwind completely. It is such a feeling as if a dozen or so fingers massaged your foot from the sole. A wonderful sensation, a sensational massage, relaxing tense foot muscles. And so we have feet, calves massaged with airbags and rollers massaging the foot from the sole. And we're talking a truly top class massage chairs here, high quality leg massage. Next, we have Stravagante. It's obvious that the foot massage rollers are here too. However, there is also an airbag at the front, an additional calf massager, and there is magnetotherapy feature active throughout the massage.
There's the entire range of foot massage in the Massaggio models. Going further, here we have the Keyton chairs, in which there are unique calf massagers. There are vibrations in the seat, the calves are subject to additional 3D massage, highly relaxing, but basic, excluding the feet of course. Moving on, we have two Fujiiryoki chairs here – JP1000 and JP2000. Here is the complete system of airbags, which provide massage in the thighs, calves and feet, with three levels of intensity, which we can easily adjust. What is more, the JP1000 has acupressure, so there is an additional airbag under the foot, but in the JP2000 there is a foot massage roller, and this is a very pleasant, very relaxing massage indeed. To sum up, the massagers are quite different. The higher the model and the more advanced, the more extensive the foot massage is. Here we have a foot massage rollers and this is something that every decent chair should really have. I highly recommend this feature because it relaxes tense feet and leg muscles completely. This is more or less what it looks like :-)