Can massage in a massage chair get even more pleasant and effective? Massage chairs offer a variety of functionalities that contribute positively to our well-being. When it comes to massage, some technologies tend to be more useful and more enjoyable, while others – such as the mp3 player – are not that necessary ;) Heating, on the other hand, is a rather important function that not only makes the moments spent in the massage chair more enjoyable, but also boosts the effectiveness of the massage itself. Read the article below and find out how a heated massage chair performs and how it makes you feel better.
What is IR heating in massage chairs?
Heating system installed in Massaggio massage chairs uses infrared rays (IR). Their application has been widely known in the world of infrared saunas, a little less so from space observation techniques or data transmission in remote controls ;) Anyway… what's important is that it has a very beneficial effect on our body, and in many publications it is even referred to as "life energy".
There are a number of different heated massage chairs available on the market. Definitely the most popular heating method, also introduced in Massaggio models, are carbon fibre mats. These mats produce heat and the maximum temperature, reaching up to around 40ºC, can be felt after just about 3 minutes after being activated. In most cases, the heating is located in the backrest of a massage chair, however, in the case of the Massaggio Stravagante 2 model, this functionality has also been introduced at calf height.
At this point it is also necessary to mention the innovative heating present in the Fujiiryoki JP2000 model. This very model is the first one to feature two-sided heating. It is therefore possible to heat up the waist area and, if necessary, also the abdomen after removing the zipper, which offers unprecedented sensations in massage chairs.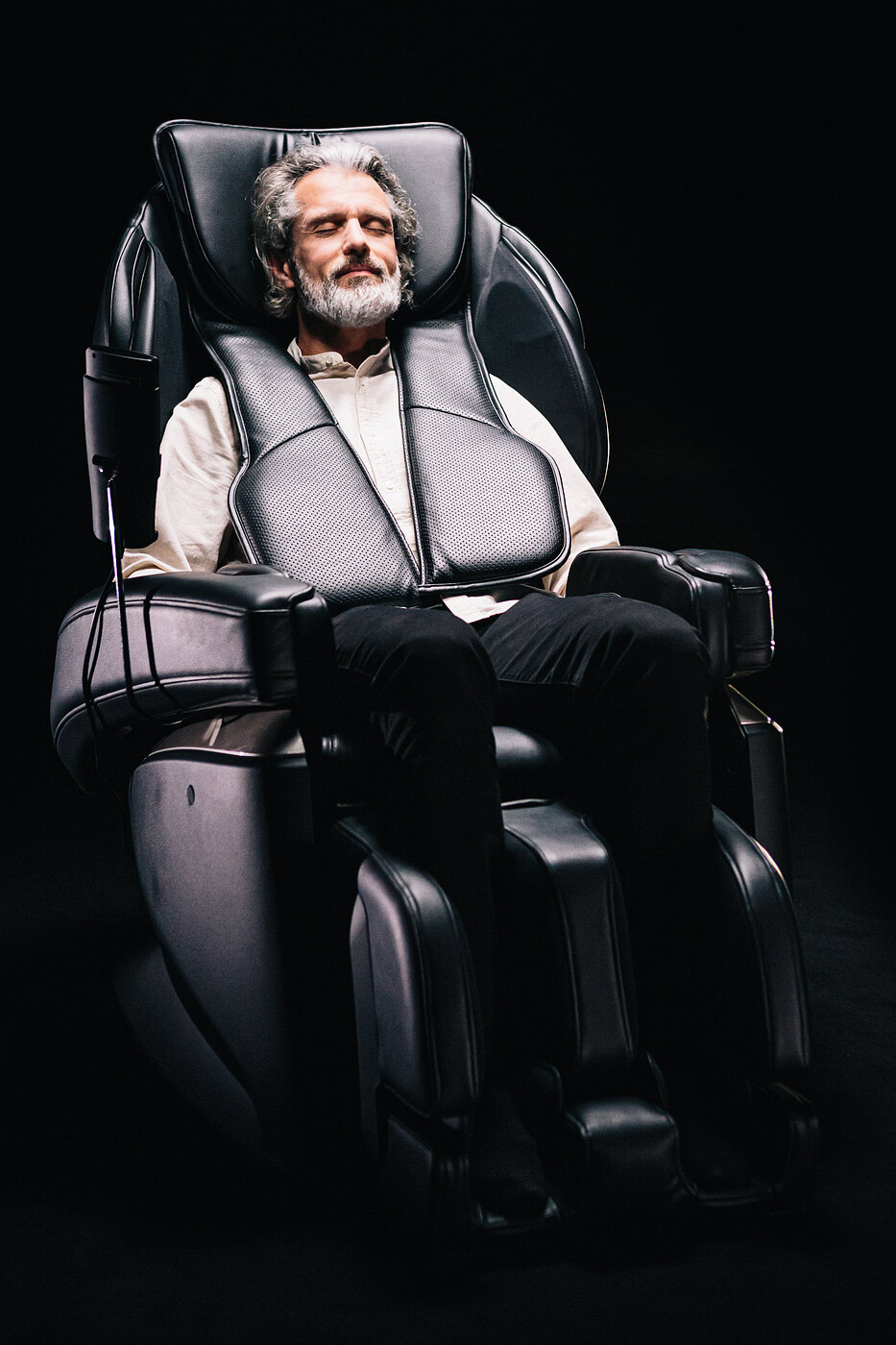 Positive influence of heating on massage in a massage chair
The heat emanating from the chair and radiating throughout the body has numerous benefits. First of all, it warms tissues located deeper within the body, relieves muscle tension and facilitates the massage performed by the massaging arms. Infrared heating reduces muscle pain, contributes to the treatment of injuries and has a positive effect on blood circulation. What is more, thanks to the heating during massage in the chair, we feel more relaxed and relieved, we sleep better and react to stress less intensively. What can I say, it is an immensely pleasant feeling ;-)
On the other hand, it is worth remembering that heating should only be applied during a relax-oriented massage sessions. When you suffer from joints or muscles inflammation, it is advisable not to apply heat, rather use cooling instead.
Heating activation without massage
Another advantage of having a massage chair with heating is the possibility to enjoy this functionality without having to activate the massage. On colder days, after a long walk or when coming back from work, we can sit in a comfortable chair, cover ourselves with a blanket and turn on the heating alone. This way, we can pleasantly warm up our body and unwind, and at the same time treat ourselves to a blissful nap in the warm comfort of our home.
It is not without reason that heating is considered to be one of the most pleasant features in massage chairs. It evokes pleasant feelings, relaxes and facilitates the massage. So if the heating function has become even more meaningful to you now, go to the Offer and see if your massage chair is equipped with it. And if you have any questions as you read on, feel free to contact us.